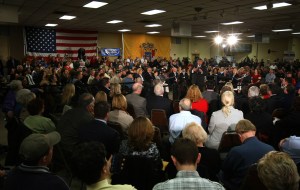 Gov. Chris Christie will host a town hall meeting next week after he delivers his budget address to a joint legislative session, the governor's office announced.
Christie will discuss his Fiscal Year 2015 Budget with Long Hill, Morris County, residents on Wednesday, a day the governor addresses lawmakers. The event will be his second town hall since being re-elected in November.
Christie hosted a town hall this week in which he discussed the Superstorm Sandy recovery (and Bruce Springsteen) with Port Monmouth residents.