"It's the size of a Volkswagen and you shove this baby right down their throats," Chuck Close told Vanity Fair of his supersize Polaroid camera. "It's very intimidating." He's shot a series of enormous untouched portraits of Hollywood heavyweights for its current issue. Made over six months, starting with Steven Spielberg and ending with Martin Scorcese, each print measures 20 by 24 inches. There's a disarming picture of a teenage-looking Scarlett Johansson sans makeup and a not-so-disarming shot of Brad Pitt, who pretty much has the aging movie star dead-on stare down to a pseudo-science. The "behind the scenes" shots featured online are more fun, with images of the colossal camera and George Clooney pretending to punch Mr. Close. 
"I don't do glamour shots, and they're not airbrushed or whatever," Mr. Close said. "So they can be, um…they can be rough."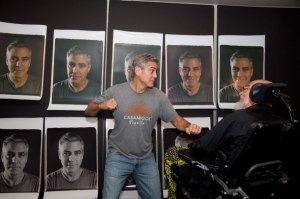 The sitters, which also include Julia Roberts, Oprah Winfrey, Kate Winslet and Robert De Niro, agreed to follow five rules: "(1) Arrive alone or with one close friend or associate. (2) Be available for three hours. (3) Be responsible for your own look—no professional styling or hair or makeup. (4) Be content with coffee and deli sandwiches or salads—nothing fancy will be served. (5) Get to the studio under your own steam."
The results are here.