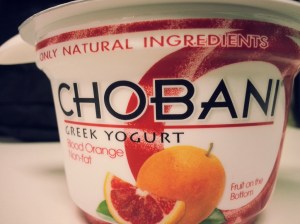 Add Greek yogurt to the list of things Russia hates.
As if  American Olympic athletes and NBC reporters don't already have enough to worry about with all the discrimination, bad water, pressure to win (duh), and, ya know, being in Russia in general, the host country felt it necessary to strip the mentioned of the one thing they had left — Chobani Greek Yogurt.
A massive shipment of the tasty treat has been stagnant in a temperature-controlled storage unit near Newark Liberty International Airport since the Russian Federation's Rosselkhoznadzor, the agency apparently in charge of yogurt border control, blocked the shipment due to the need for a "special certification."
The yogurt, intended only for the United States Olympic Team, has already been given the USDA's stamp of approval, so Sen. Chuck Schumer is hoping Russia will get their wool panties out of a bunch.
"Chobani Yogurt is safe, nutritious and delicious and the Russian Authorities should get past 'nyet' and let this prime sponsor of the US Olympic Team deliver their protein-packed food to our athletes," Mr. Schumer said in a press release.

Mr. Shumer, who claims the necessary certification is "unattainable," has called on the head of the International Olympic Committee as well as Russian ambassador Sergey Kislyak to accelerate the process.
In the Senator's letter to the ambassador, he seriously humorously concludes: "I urge your country's immediate approval of the entry of this shipment of Chobani Greek yogurt."
How's that for foreign affairs?