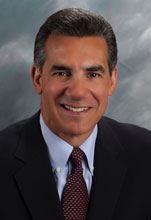 Assemblyman Jack Ciattarelli (R-16), Hillsborough, the affable lawmaker from Somerset County, won't challenge U.S. Sen. Cory Booker (D-NJ) this year for the U.S. Senate seat.
Ciattarelli had mulled over a run in the vaccum currently somewhat irritating GOP leaders as they try to figure out how to project a statewide intent while more urgently focusing their efforts on salvaging a damaged Gov. Chris Christie.
Ciattarelli's name wriggled publicly into the "mix" – such as it is – last week with a report on PolitickerNJ.
He considered it and decided against it after conferring with family members.
Other GOP names actively in the hunt to face Booker include Jeff Bell, newly relocated to the state to followup on his 1978 loss to Bill Bradley; Ramapo Finance Prof. Murray Sabrin; and retired FBI agent Robert Turkevage.