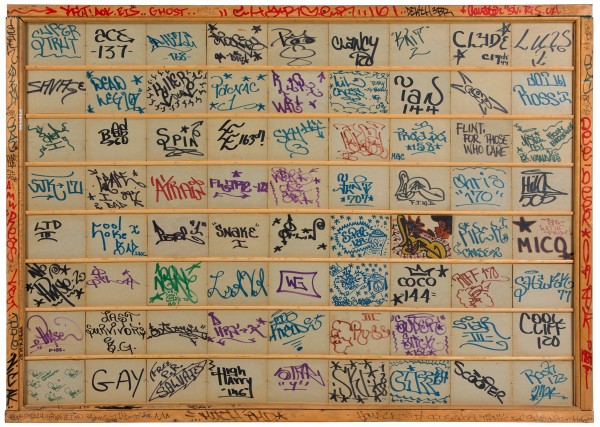 Fifteen years after his death of AIDS in San Francisco, painter Martin Wong continues to nourish the cultural foundation of New York, where he lived from 1978 through 1994. Last year, the Danish-Vietnamese artist Danh Vo presented thousands of tchotchkes Wong once owned as a single heartbreaking artwork at the Guggenheim. And now we get an illuminating, much-needed look at the graffiti collection that Wong donated to the Museum of the City of New York just before he left for the Bay Area.
He began assembling his collection around 1982, working at the Pearl Paint on Canal, extending questionable discounts to graffiti artists who came in. He traded his own work—the gorgeous, brick-filled scenes of Downtown Manhattan that he was showing at East Village galleries—for the graffiti artists' paintings and black books, sketchpads they used to plan pieces that they would execute, rapid fire, on subway cars and neighborhood walls. (Many pages are reproduced in the richly illustrated catalog for this show, which was organized by the museum's curator of prints and photographs, Sean Corcoran.)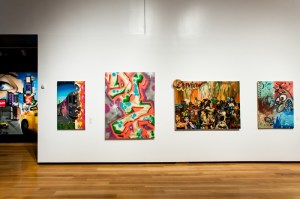 Interest in graffiti, which had hit New York in the late '60s and thrived in the impecunious '70s, was cresting when Wong started collecting it, and so he had to play catch-up on the ephemeral medium. Henry Chalfant, James Prigoff and Charlie Ahearn made photos and films of electrifying, psychedelic works that spanned whole subway cars by Lee, Noc 167 and others, and Wong got a Rosetta Stone for graffiti's early history in a gridded board of tags by 72 different writers compiled from '70 to '72 by Wicked Gary (noms de guerre were de rigueur) of the Ex-Vandals, Brooklyn high school students whose tags spread through the subway like electricity and spawned a Bronx-based offshoot.
The art world was swooping in at the same time as Wong. Writers "are producing some of the best work by young artists today," dealer Leo Castelli declared in 1981. Writers moved to canvas, and the results, judging by those works displayed here, are uneven. Lady Pink, a rare female writer, is among the best. Her very first painting, a 1981 self-portrait in a purple jailhouse—as a victim of the city's increasingly draconian approach to graffiti—is a winner, cut through with psychological trauma. Daze has a raucous, caricature-filled Hotel Amazon, which updates Reginald Marsh's 1930s dancehall scenes to a 1988 L.E.S. late-night club in a school gym. The abstractions, however, tend to blend together on their modestly sized canvases, lacking the punch they have on more expansive surfaces outside, where they would play against the stuff of the world. Intricate sci-fi pieces by Rammellzee and interlocking calligraphic marks made by LAII, a frequent collaborator of Keith Haring (who has minor, but characteristically winsome, pieces here), are exceptions.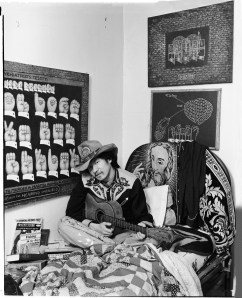 The mainstream New York art world quickly lost interest in graffiti. Wong did not. In 1989, he opened a Museum of American Graffiti on Bond Street. It lasted only six months, scuttled by real estate predicaments. That same year, the MTA declared that it had vanquished graffiti from its cars. Regardless of what you think about that, you have to admire graffiti's vivacious audacity—it was a brazen, truly new art form that, for a brief moment, spilled into public space and accomplished what today's art—even today's street art—almost never manages to: It grabbed eyeballs and threatened the status quo.
(Through Aug. 24, 2014)