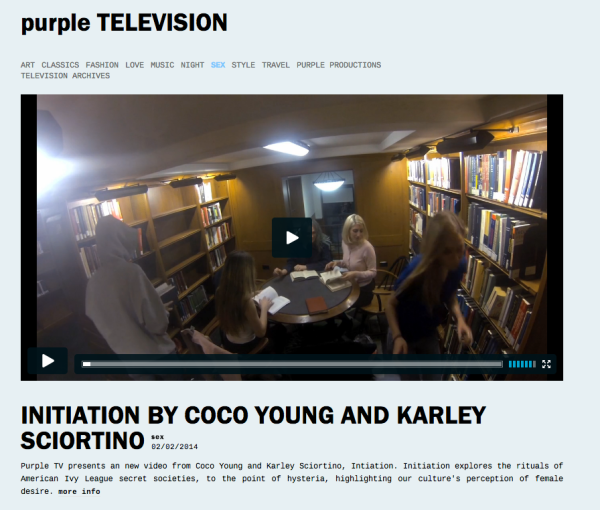 Columbia is the sight of many historical moments. The newest one? A porno filmed in Butler Library.
Filmed in November, directors Coco Young, a Columbia College student, and Karley Sciortino created INITIATIØN. The video, released yesterday on purple TELEVISION, features five women sitting around a table studying. Then as the film goes on, they undress, go to a hallway, cover themselves with raw eggs and then there's a dead bird.
The Observer spoke to Ms. Young as to how this…artwork(?) came into being. She said the piece is a comment on hysteria, a diagnosis used to classify women who displayed any kind of emotion or desire in the 19th century.
"The more you watch, the more you get repulsed by it," Ms. Young told The Observer. "Men get hooked because they want to see naked girls, but then we do gross things and are not attractive at all."
As a photographer and performance artist, Ms. Young and Ms. Sciortino, respectively, aimed to challenge the female presence in art. Ms. Young feels that while women's sexual desires are no longer considered an illness, the idea of hysteria still exists in 2014.
"We wanted to provide a critique on the institution and society, in general," Ms. Young said. The title of the video is inspired by Ms. Young's fascination with Greek life and its "historically mysterious" reputation.
Ms. Young, an art history major who hearts her alma mater as much as anyone, said that she feels women at Columbia University do not receive the respect they deserve because of institutional bias against Barnard College, the all-female college of the University. "The video addresses the gender issue around the school," Ms. Young explained. "We chose to film this in Butler because there are all-male names written on the wall of the library. It is a politically strong place." Sara Grace Powell, a senior at Barnard College, is also featured in the video.
Ms. Young and Ms. Sciortino filmed this intense and explicit porno to display the "ecstasy moment right before death or the moment of orgasm, which usually describes hysteria but is a humanly universal feeling," Ms. Young said. The women also implemented media aspects of their daily lives, filming the video on iPhones and a GoPro camera set up as a surveillance camera. By taking selfies to a new level, the women transform potential platforms of exploitation and create a source of empowerment.
The Observer reached out to both Columbia University and Barnard College to get their input, but both schools have yet to respond. Students, however, were quick to voice their opinion of the video on Columbia's Bwog.
One student commented, "Those girls should lose their library access." While another wanted to get in on the fun: "Dude. Can I join? I'll bring some more eggs. Organic AND cage free."
If you're not at work right now, you can watch the video here.