Greenwich Village
12 East 13th Street
Car buffs, stop! Don't move to L.A. just yet! You are going to love this building. The former Hertz parking garage on 13th Street between Fifth Avenue and University Place has been converted into a 45,000-square-foot building with eight residences. They start at 2,800 square feet and range upward to 6,000 square feet, each offering oversize windows, private storage and at least one parking spot. The developers, DHA Capital and Continental Properties, nod to the building's past and feature Park Plus' robotic parking system on the second floor, which commands robots to retrieve the owner's car in 90 seconds by smart phone.
Harlem
23 West 116th Street (The Adeline)
Red Rooster, the Apollo, an unparalleled music scene—why would anyone not want to be in Harlem right now? L+M Development Partners is making it even trendier with its development at 23 West 116th Street, the Adeline. Adding to the growing list of luxury residences north of 96th Street, the Adeline offers on-site Blink Fitness, a doorman, bike storage, and a 2,300-square-foot shared roof. "We wanted to respect both the old and the new in Harlem, so we carefully layered modern and traditional details throughout the Adeline," explained Tell Metzger, the development director of L+M Development Partners. Once vistors see your wide-paneled oak floors and herringbone tiles, they'll be humming "Take the A Train" with a mournful, envious note.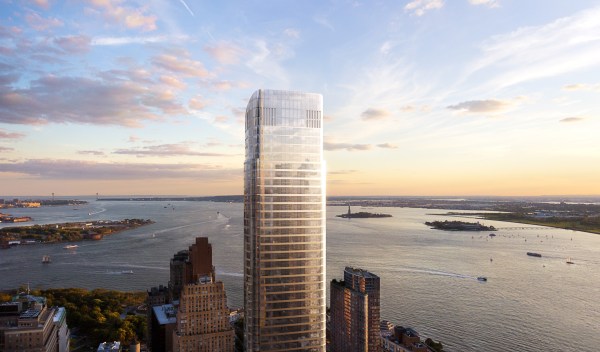 Lower Manhattan
50 West Street
(50 West)
Like to have cocktail parties? How about cocktail parties with absolutely breathtaking views of the Manhattan skyline? Time Equities' Francis Greenburger is developing his legacy and passion project at 50 West Street, simply marketed as 50 West. The residential building will stand 63 stories tall, with some seriously jealousy-inducing views of the river and Manhattan skyline. Thom Juul and Helmut Jahn were brought in as interior designer and architect of the building, respectively, adding to its decadence with Jahn's rare and artfully curved-glass facade. Get those martini shakers ready.
Upper East Side
60 East 86th  Street (Sixty East Eighty Sixth)
The Upper East Side is about to get less stuffy. "Our buyer appreciates design and aesthetics and understands that Sixty East Eighty Sixth is a truly rare opportunity for something new and fresh in this historic neighborhood," said Beth Fisher, senior managing director of Corcoran Sunshine Marketing Group. "There has been virtually no new construction to select from in the Fifth/Madison Avenue corridor." Pricing for three- and four-bedroom apartments in the building range from $7,000,000 to $20,000,000. A highlight of the building is the chef kitchens, which feature Vals quartzite flooring, expansive white marble slab countertops, Gaggenau appliances, Lefroy Brooks fixtures and lacquer cabinetry with polished nickel fixtures. Trust us, it looks nothing like your grandmother's apartment.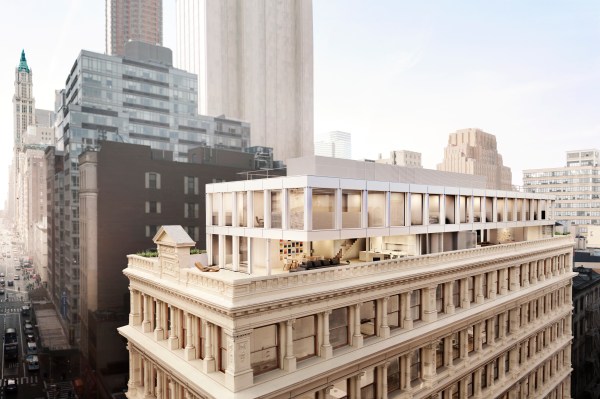 Tribeca 
67 Franklin Street (Cast Iron House)
How would you like to live in the coolest-looking building in New York? The Cast Iron House at 67 Franklin Street inherits its name from the iron that blankets the building; during the conversion project, the developers shipped out each of the 4,000 cast iron pieces to Alabama to be restored. "This is a distinctive building not only in Tribeca, but all of New York City," said Jourdan Krauss, the president and founder of Knightsbridge Properties. "The Cast Iron House is a combination of the preservation of a historic landmark that took over three years to meticulously restore, coupled with the reinterpretation of a visionary and iconic contemporary architect, who created a landmark within a landmark."
Upper East Side
155 East 79th Street
O.K., this one does look like your grandmother's apartment, if your grandmother was a Rockefeller. Anbau Enterprises' Barbara van Beuren is leading the über luxurious development behind 155 East 79th Street. "Interestingly, Barbara grew up not only in this neighborhood but in the building next door!" added Beth Fisher, senior managing director of Corcoran Sunshine Marketing Group. "Her nostalgia for the charms of the neighborhood continue, and she observes that it really hasn't changed much. The motivation certainly was to build family-size and scaled residences." The building, spanning 14 stories, will include seven duplexes complete with custom hardwood floors, Italian marbles, wood-burning fireplaces, Juliet balconies and terraces. Each of these massive residences will have five bedrooms and five-and-a-half bathrooms.
Soho
180 Avenue of
the Americas
(One Vandam)
Let's play "what penthouse are you." It's relevant, because 180 Avenue of the Americas has one for each type of personality. Penthouse A sets the tone for luxury in the downtown market with three wood-burning fireplaces, an outdoor spa, triple-height staircases with floor-to-ceiling windows and a private elevator. Penthouse B is less on the extravagance and more on the functionality, including four bedrooms, two terraces and a wood-burning fireplace. Penthouse C takes it back up a notch with another bedroom , an eat-in kitchen and a library. The building, a joint venture between the Quinlan Development Group and Tavros Capital Partners, officially opened sales for the building late last year but just placed the south-facing penthouse, the third of the bunch, on the market for a smooth $28 million. We're pretty multifaceted, so we're going to pick A, B and C.
Nolita
199 Mott Street
Sometimes in New York, it's easy to miss greenery and the quaint charm of a small town. Well, it is unless you are a resident of Alfa Development's 199 Mott Street. The building is nestled among the tree-lined streets of Mott and Mulberry, a location that offers the centrality of Soho without the gridlocked tourist traffic. The building will compliment the quaintness of the area, in addition to increasing its luxurious offerings. The outside will bear a red brick, steel and limestone façade with units that come as either two- or three-bedroom spaces with private terraces.
Meatpacking District
245 West 14th Street
(Village Green West)
It's easy being green—if you go to Alfa Development's 245 West 14th Street. The building, marketed as Village Green West, is a 12-story condominium that aims to achieve LEED Gold certification upon completion. The green efforts are supported by utilizing eco-friendly and locally sourced materials within the units, a green roof terrace and a wellness center. Sales range from $1.3 million to $11 million within the building for a mix of one-, two-, three- and four-bedroom units and four full-floor penthouses.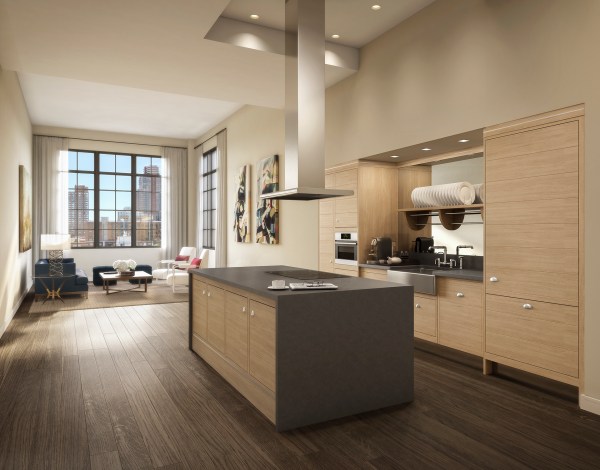 Midtown West
425 West 50th Street
(Stella Tower)
The latest developments in Manhattan would not be complete without a mention of a luxury tower in Midtown West. It's an absolute work of art. Stella Tower, a joint venture between JDS Development Group and Property Markets Group at 425 West 50th Street, will launch in the spring. "Originally designed by Ralph Walker, the building is one of the finer examples of classic Art Deco architecture. It was built before neighborhood height limits were enacted and soars above its surroundings, offering spectacular panoramic views in every direction," said Michael Stern of JDS. "We set out to create a building that blends the best of solid prewar construction with the latest technologies and finest luxury finishes." The 51 units will be priced from $2 million to $10 million.