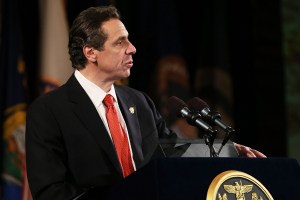 Gov. Andrew Cuomo today defended comments he made last month that ignited conservatives nationally by suggesting, in their eyes, that they were no longer welcome in the Empire State.
During a January radio interview, Mr. Cuomo said "extreme conservatives, who are right-to-life, pro-assault weapon, anti-gay … have no place in the state of New York." Aides insisted his comments were taken out of context, but conservative pundits nevertheless pounced.
Today, taking questions after an unrelated press conference in Albany, Mr. Cuomo addressed the remarks for the first time and said his position "is actually the exact opposite" of the one characterized by his critics.
"I was not saying anyone should leave the state, right? And anyone who heard the comments knows that's not what I was saying," explained Mr. Cuomo, arguing that some of the ensuing controversy was generated by people "who want to have a political dialogue."
"I wasn't saying that anyone should leave the state. My position is actually the exact opposite," continued the governor. "We have all sorts of opinions in this state. We have people all along the spectrum and it's one of the things that makes New York special. We can agree to disagree and everyone has a right to an opinion."
Whether or not that convinces conservative Fox News host Sean Hannity to stay in New York after all remains to be seen.