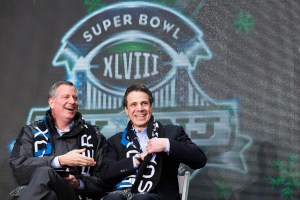 Gov. Andrew Cuomo once again dismissed Mayor Bill de Blasio's plan to fund universal prekindergarten, implying today that the mayor's tax-the-rich push would lead to a tale of "two states." 
Mr. Cuomo, who opposes the mayor's plan to raise taxes on the city's highest-income earners to fund universal pre-K, is pushing instead for state-wide funding from Albany, which he argued today was a more equitable system.
"We have a millionaire's surcharge which is one of the reasons we have the resources to pay for pre-K statewide. Well, how about pre-K just for the city? No, no," Mr. Cuomo said during an interview on the Brian Lehrer Show today. "I know the tale of two cities. The answer to the tale of two cities is not to create two states, right? The answer to inequity and inequality is not to create more inequity and inequality. I don't support a system that has the millionaires of New York City funding a system for the children in New York City."
Mr. de Blasio has long maintained that a tax-based revenue stream is necessary because it's not subject to the whims of Albany. But Mr. Cuomo said argued the plan would leave children behind.
"I support a statewide system because the children in New York City are precious and so are the children in Buffalo and so are the children in Albany and so are the children in Suffolk and I'm not going to leave behind the children in any part of this state," Mr. Cuomo continued. "That is not going to happen and nobody should want it to happen."
Though the two pols profess to be friends, they have butted heads over the past few weeks about how to fund an expansion of universal pre-k. Mr. Cuomo, loathe to raise taxes during an election year, claims the state can pay for the program. Mr. de Blasio meanwhile says the only way to properly fund pre-K in the city is through a dedicated tax.
Many of his liberal allies agree, but power brokers beyond Mr. Cuomo, including State Senator Dean Skelos, a co-majority leader, oppose the plan.
"Every child in this state will be given a great advantage," Mr. Cuomo said. "The city, the state, we're all one at the end of the day."
Update (3:53 p.m.): de Blasio spokeswoman Marti Adams responded to the governor's comments with a statement stressing their shared goals, but insisting the mayor's plan is "best" for both the city and state. "The Mayor and the Governor share a commitment to ending inequality but an honest assessment of the Mayor's plan for universal pre–K leaves no doubt: it's best for the people of New York state as well," she said. "It provides free, universal pre-k for the children of New York City with the funding to pay for it."