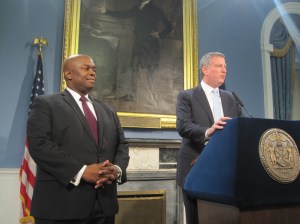 Mayor Bill de Blasio this morning announced the appointment of his final deputy mayor.
Richard Buery, who currently serves as president of The Children's Aid Society, will serve as the new Deputy Mayor for Strategic Policy Initiates–a  newly-created position.
Mr. Buery's work will focus on implementing some of the new administration's "most important agenda items and most ambitious priorities," including the new mayor's signature pre-K program and assembling a new "Children's Cabinet" to work across city agencies.
"I share the mayor's vision about what it will take to make the promise of equal opportunity real to everyone," Mr. Buery said at a press conference this morning at City Hall, where his appointment was announced. "We are going to elevate and reform the way that New York City supports families."
The mayor said that he got to know Mr. Buery personally when the pair took a Jewish Community Relations Council of New York trips to Israel along with Mr. de Blasio family. "It was an extraordinary eight days that we all spent together, non-stop, learning about Israel and really learning about each other in the process," he recalled.
"Richard has scaled mountains and done extraordinary things," he added of his new hire, who was born in East New York and has also worked as a staff attorney for the Brennan Center for Justice and a fifth grade teacher at an orphanage in Zimbabwe.
Mr. de Blasio had told reporters to expect a "flurry of appointments" to his slowly-growing administration this week.
Updated at 11:33 a.m. with details from the press conference.
View the full announcement below:
MAYOR DE BLASIO APPOINTS RICHARD BUERY AS DEPUTY MAYOR FOR STRATEGIC POLICY INITIATIVES, WITH PRE-K IMPLEMENTATION AS TOP PRIORITY

Buery to lead interagency efforts to launch pre-K for every 4-year-old, develop 100 community schools, assemble 'Children's Cabinet'

NEW YORK—Mayor Bill de Blasio today appointed Richard Buery as the city's Deputy Mayor for Strategic Policy Initiatives. The newly created post will direct many of the administration's signature initiatives requiring major interagency collaboration, from providing free, full-day pre-kindergarten to every child, to launching 100 new community schools that support families in low-income neighborhoods.

A native of East New York and son of immigrant parents, Richard Buery is a champion for New York City children living in poverty and for expanding educational opportunity for young people. With a legal background in civil rights and innovative expertise in youth development and social entrepreneurship, Buery built community-based organizations from scratch and effectively ran one of the most well-respected and established child service organizations in the country—the Children's Aid Society.

"Richard is a powerful advocate who knows what it takes to lift up working families. He gets the big picture and will make sure that agencies are working together to achieve our biggest priorities. This is going to be one city, where everyone rises together—and that demands a city government that works as a single unit to confront the crises we face. No one is better qualified to take on that challenge than Richard," said Mayor Bill de Blasio.

"This is the opportunity of a lifetime. It's been my mission in life to help families work their way up the economic ladder. No agency, no community group can do that alone. It takes sustained and far-reaching coordination to drive that kind of change. This administration won't let bureaucracy or business-as-usual stand in the way of the progress we're going to make for children and families," said incoming Deputy Mayor Richard Buery.

About Richard Buery:

Born and raised in East New York, the son of a retired New York City public school teacher and a retired lab manager, Richard R. Buery, Jr. has dedicated his life to improving educational opportunity and life outcomes for young people in America's most disadvantaged communities.

As an undergraduate student at Harvard, he co-founded the Mission Hill Summer Program, an enrichment program for children in the Mission Hill Housing Development in the Roxbury section of Boston. Buery went on to establish two other nonprofit organizations before joining The Children's Aid Society, iMentor and Groundwork, Inc. He served as executive director of iMentor, a technology education and mentoring program that each year connects New York City middle and high school students with professional mentors through online and face-to-face meetings. Highly regarded and now one of the largest youth mentoring organizations in New York City, iMentor is currently undergoing a national expansion. Replicating the same concept of the Mission Hill Summer Program in Boston, Buery also co-founded and served as executive director of Groundwork, Inc., a nonprofit organization serving the children and families of Brooklyn public housing developments.

Buery was a staff attorney at the Brennan Center for Justice. He also served as a law clerk to Judge John M. Walker, Jr. of the federal court of appeals in New York City, as a fifth grade teacher at an orphanage in Bindura, Zimbabwe, and as chief political officer and campaign manager to Kenneth Reeves, the mayor of Cambridge, Massachusetts. He has also served as an adjunct lecturer at the Baruch College School of Public Affairs.

In October 2009, Buery was named the tenth President and Chief Executive Officer of The Children's Aid Society. Children's Aid is an independent, not-for-profit organization established to serve the children of New York City. Its mission is to provide comprehensive support for children in need, from birth to young adulthood, and for their families to help children succeed and thrive. Children's Aid serves New York's neediest children and their families with a network of services and programs that support children and their families from before birth through young adulthood. Buery is the first black leader of Children's Aid and the youngest since Charles Loring Brace founded the agency in 1853.

Under Buery's leadership, Children's Aid has begun a process to transform the organization to be more focused programmatically and more results-oriented. Children's Aid's new vision is to end the cycle of poverty by putting children on the path to college graduation, concentrating its efforts on the highest-need neighborhoods and making long-term investments in children—from cradle to college graduation. The organization is building systems to track children's progress along the way, both to improve its ability to give individual children the support they need and to ensure that its programs are achieving the desired outcomes in education, health and wellness, family stability, and social and emotional learning.

The recipient of many honors and awards, Buery was a 1992-1993 Michael Clark Rockefeller Fellow, in 2000 was named one of Ebony magazine's "30 Leaders of the Future Under 30," and in 2009 was named one of Crain's New York Business's "40 Leaders of the Future Under 40" in recognition of his contributions to the life of New York City.

He received the Mary McLeod Bethune Recognition Award from the National Council of Negro Women; the Extraordinary Black Man Award for Humanitarianism from the United Negro College Fund; and the inaugural outstanding alumnus award from the Phillips Brooks House Association at Harvard University. He has also been honored by the Rush Philanthropic Arts Foundation, the Brooklyn Borough President, and others.

Buery lives with his wife Deborah, a law professor, and his two sons, Ellis and Ethan.