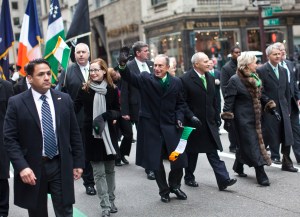 Mayor Bill de Blasio is going to skip this year's St. Patrick's Day parade, citing the exclusion of openly gay participants. But one of his Irish-American commissioners is going to march anyway.
"I march in a lot of St. Patrick's Day parades and I'll probably march in this one this year too," Sanitation Commissioner John Doherty told Geraldo Rivera in a radio interview this morning. 
"So you're not put off by the exclusion of the L.B., whatever–L.G.B.T.?" asked Mr. Rivera.
"That hasn't bothered me. I think that's something that the parade committee has to address and I'm not going to get involved with that," replied Mr. Doherty, a holdover from the Bloomberg administration.
Mr. de Blasio, who has boycotted the parade throughout his elected career, told reporters yesterday that–while he will maintain his distance as long as the ban on openly gay participants remains in effects, marking a break from the past two administrations–he will not stop city workers from marching in uniform with their agencies. "I believe that uniformed city workers have a right to participate if they choose to. And I respect that right," he said.
Still, his decision to personally boycott the event, along with Council Speaker Melissa Mark-Viverito, Public Advocate Tish James and Comptroller Scott Stringer, drew criticism from some quarters.
"Mayor de Blasio's decision not to march in this year's St. Patrick's Day Parade is truly unfortunate and disappointing," Councilman Eric Ulrich declared in a statement fired off late Tuesday afternoon.
But Mr. Doherty said it was no big deal.
"He's doing what he's feels is appropriate for him in his mind," he told Mr. Rivera. "And not everybody is going to agree with him. There are many I'm sure who will agree with him and there are many who will disagree with him. But it's the ability to have free speech and do as you please and do what you think is right–that's what's great about this country."
Mr. Rivera himself nevertheless voiced reservations about Mr. de Blasio's decision.
"You know, I don't know about not marching in the St. Patrick's Day parade. I don't know," he said. "This is one of the differences between a liberal Democrat and a conservative Republican I guess … See, I would march and wear the rainbow flag or something." (The parade prohibits public expressions of gay pride.)
LGBT leaders and officials have called on Mr. de Blasio to bar uniformed city agencies from participating on the event. The police and fire departments did not immediately respond to questions about whether their respective leaders are likely to join Mr. Doherty in the March 17 parade.
Additional reporting by Kelly Weill.