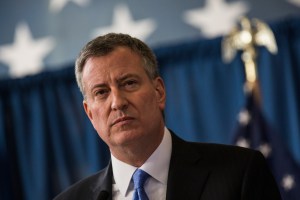 Bill de Blasio isn't backing down from his staunch support of AIPAC.
Bill de Blasio's off-schedule, closed-press speech last month to the pro-Israel lobbying organization drew criticism from the the Democratic mayor's most passionate supporters, including The Nation's editorial board, which reacted especially harshly.
"Deplorable? Yes. Surprising? Hardly. Perhaps the most depressing feature of this ritual of abjection is its predictability—the fact that for decades, this has been standard operating procedure for many American politicians," the magazine lamented last week, citing the mayor's "especially dismaying" vow that his door would be open to members of the group.
Mr. de Blasio, like many city politicians, has always been close to the Israeli government's worldview, even as it's questioned by some of his liberal allies. Asked today about whether the speech fit into his brand as an outspoken progressive, Mr. de Blasio doubled down on his support.
"Of course it's a very complicated dynamic in the Middle East," the mayor said during a radio interview this morning on The Brian Lehrer Show. "I think that the core of this is I'm unabashedly pro-Israel–meaning: the state of Israel, the survival of Israel, the sense of alliance that this country needs to have with Israel. I think Israel is in constant danger. I think, bluntly, there's been some real indications of sustained antisemitism all over the world."
But Mr. de Blasio cautioned that he still disagrees with some foreign policy hawks. "That doesn't mean I agree with every policy by the Israeli government at any given moment, of course," he said, citing his strong support for President Barack Obama's controversial deal with Iran rolling back sanctions in exchange for curbing its nuclear program.
"I'll obviously have my differences with any given organization or any given foreign government," he continued. "But my core point here is: As the mayor of the city has a certain extraordinary deep tie to Israel and the huge Jewish population that we have, I do think it's incumbent upon me to defend the state of Israel in the context of a very hostile world."