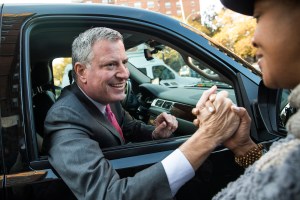 Mayor Bill de Blasio today dismissed the notion that he's dragged his feet in filling his new administration, insisting that very few posts remain vacant.
"I'm not a lawyer …  but I will be on the watch for premises that may not be accurate. A large number of agencies is a debatable point," said Mr. de Blasio when asked about the criticism at a press conference today announcing three new hires.
"There's a fairly small number of agencies left that we haven't named people to," he said.
Nearly two months since taking office, Mr. de Blasio has yet to appoint heads to more than a dozen city offices and agencies, including, but not limited to: the Department of Buildings, the Department of Cultural Affairs, the Mayor's Office of Film, Theatre & Broadcasting, the Department of Consumer Affairs, the Department of Correction, the Department of Finance, parks, design and construction, the Taxi and Limousine Commission and the Landmarks Preservation Commission.
The Office of Emergency Management, the Fire Department and the Department of Sanitation are also being run by holdover commissioners from the Bloomberg administration, whom Mr. de Blasio has indicated he plans to replace.
But the new mayor pointed to his progress so far, insisting he was keeping up pace.
"We've named over 50 top officials already," he said, before going on to explain that his top concern, at all times, is finding the highest-quality people, regardless of how long it takes.
"I think what we've done is we've said we are looking for the very, very best. We will make sure we get the best. We'll make sure we get people who are truly effective, who have our values and who reflect the whole population of this city. And we're just not going to compromise on that," he said.
"There's a fairly small number of agencies left that we haven't named people to and we're going to continue the same process, and we're going to get great people for those roles, too," he added. "In the meantime, we have leaders in each agency who I think are doing a fine job and I'm very satisfied with the way the government's working and the level of coordination between different agencies … So I am comfortable in my own skin and I'm clear that I will not hire anyone I think is not the very best for a job."
The proof, he went on to say, is in the pudding. He pointed to the fact that, overall, his appointments so far have generally won praise from people on both sides of the aisle.
"What I've heard from all over the city–including from a lot of folks who didn't necessarily revel in my election–is that  whether they are Democratic or Republican, whether they supported me or not, they're pretty uniformly impressed by the caliber of people we've gotten into the administration," he said.
He also disputed the description offered by even some supporters that the mayor has a slow and deliberative management style, dismissing the characterization as a "stereotype."
"I think that some individuals have tried to create a certain image, a certain stereotype. I think it's absolutely unproductive to attempt to always minimize people that way. What I'd say is I hold a high standard and I"m very clear about what I want and need," he said. "Look, I'm very hands-on about this and I pride myself with having created very effective teams for quite a long time. And I literally know in my heart when I have someone up to the standard that I require. And if I don't, the process continues."