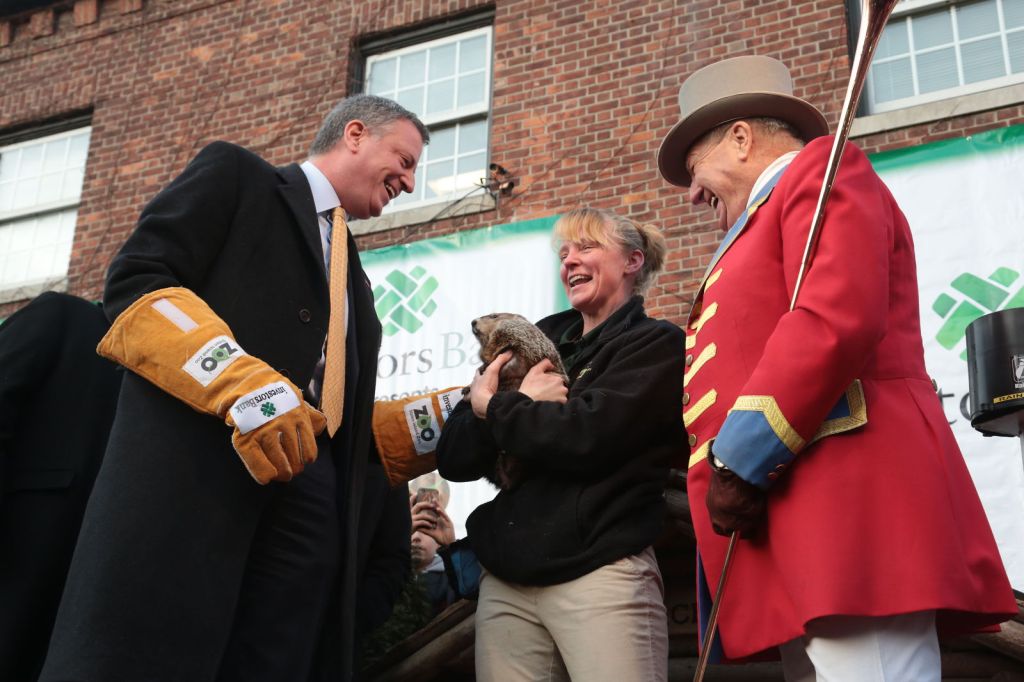 He dropped the furball.
Mayor Bill de Blasio had some trouble this morning with his first official Groundhog Day ceremony, as the skittish Staten Island Chuck squirmed out of his arms mid weather-reading, sending the critter barreling towards a wooden pointed fence and earning gasps from the crowd.
Chuck fortunately landed safely within his pen at the Staten Island Zoo, and predicted six more weeks of winter.
"I'm sorry to say we have troubling news, here. Chuck likes the polar vortex. Chuck says more winter," said the mayor. "Chuck has spoken everyone. It's a cold, hard reality."
Mr. de Blasio also managed to escape injury from the groundhog–formally named Charles G. Hogg–who famously took a chunk out of former Mayor Michael Bloomberg's finger in 2009, drawing blood.
"Chuck and my predecessor didn't always get along, let's be honest about that. But I'm hoping we can start a new day, a new relationship here," said Mr. de Blasio before the encounter. "I'm reaching out a hand to chuck and I hope he will consider shaking it rather than doing other things."
Public Advocate Tish James had some more hard-knock advice. "Tish and I are from Brooklyn. And she said, 'In Brooklyn we bite back.' So Chuck has been forewarned," he quipped.
Still, Mr. de Blasio approached the task carefully, donning thick, yellow, elbow-length Staten Island Zoo gloves.
"And now with trepidation, I step forward," he said before approaching the pen and attempting to collect the groundhog, who had to be coaxed out of his house by a zookeeper and passed over to the mayor. But Mr. de Blasio never quite caught his grip, allowing the squirming marmot to make his way to the ground. ("For a moment I thought Chuck was going to predict an early fall," offered Deputy Borough President Ed Burke.)
But a zookeeper quickly scooped Chuck up again and passed him back to the mayor, who held the critter tightly in his arms, posing for photos as the zoo staff determined the shadow result.
"We're making peace. We're making peace here. We're all getting along. It's all good Chuck," Mr. de Blasio said as he gingerly held the animal. "Now Chuck, what about this winter thing, Chuck? We can work something out, can't we?"
But the results called for more six more weeks of winter instead of early spring.
"Live by the groundhog. Die by the groundhog," declared the mayor. "There it is, the truth. Thank you, Chuck. Thank you for your honestly, Chuck. He tells it like it is."
See video of the encounter below:
[youtube http://www.youtube.com/watch?v=2FFY7gtIiak]
Update (12:24 p.m.): Mr. de Blasio reflected on the fumble later this morning after meeting with local officials and residents at a diner in Staten Island.
"Staten Island Chuck was very rowdy this morning, I'd like to stay," said a chuckling Mr. de Blasio, who noted that this was the first Groundhog Day in memory to coincide with the Super Bowl.
"I think that was Staten Island Chuck doing his Marshawn Lynch impression," he continued, referring to the Seattle Seahawks' star running back. "I got a hand on him, he swerved out of the way. Very impressive. But once he calmed down, I found him to be a very friendly and very appealing young animal."
"But I'm sorry about his report," he added. "You know the truth is the truth and we owe the public the truth and we'll get through the next six weeks together."