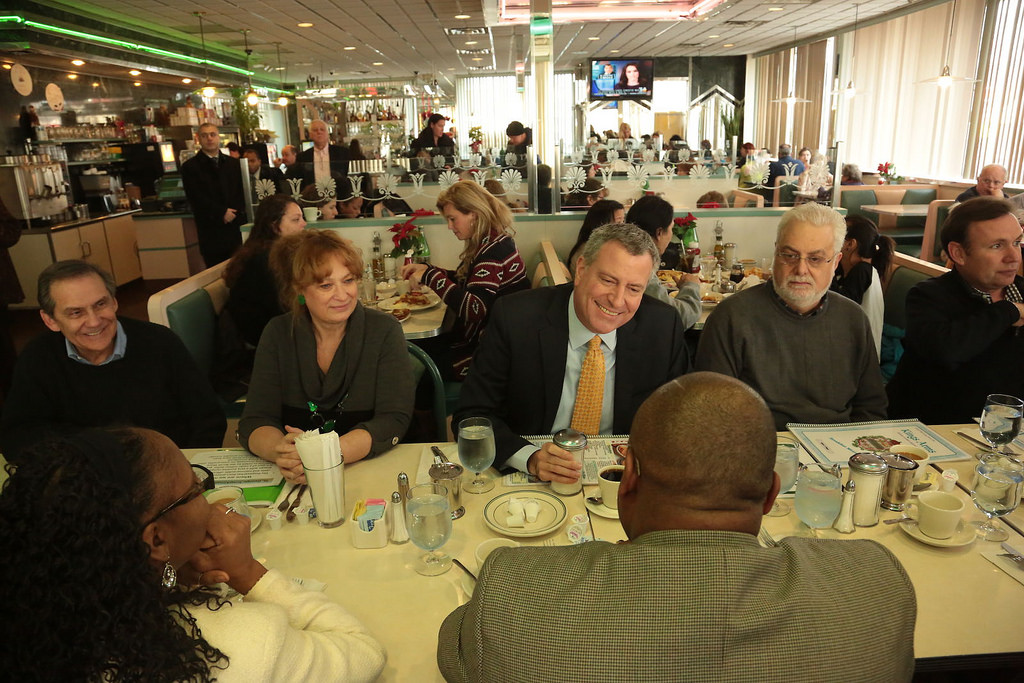 Mayor Bill de Blasio had breakfast this morning with Staten Island residents and lawmakers, where he vowed that Staten Island would no longer be the "forgotten borough" and at one point joked about recruiting outspoken Seattle Seahawks cornerback Richard Sherman to his press team.
"I told my press folks that I'm sorry, I'm laying one of them off and making Richard Sherman my communications director," he joked to the group, referring the star football player, whose angry outburst at the NFC Championship Game became a viral sensation. "I want someone bolder."
Mr. de Blasio met with residents and elected officials, including Republican Councilman Steven Matteo and Democrats like Councilwoman Debi Rose and Assemblyman Michael Cusick, at the King's Arm Diner, where he munched on whole wheat French toast with crispy bacon.
"I'm really appreciative that everyone's making the time this morning," Mr. de Blasio told the group as they kicked off the conversation, beginning by discussing the city's much-criticized response to last month's second major snow storm. Other subjects touched on during the more-than-hour-long sit-down included rebuilding after Hurricane Sandy, schools and transit issues in the borough.
"Last year I said we need a five borough government … All borough are created equal. And I want to live that out every day in what we do," Mr. de Blasio said at a press conference after the gathering.
"For a long time, the phrase has been that this is the forgotten borough, and I've said for a long time I'm not going to allow that to happen on my watch. And that starts with showing up. It starts with listening. It starts with reaching out a hand and figuring out how we can work better together," he said, describing this as the first of many times he plans to visit to the borough "to find out what we can do better."
One official missing, however, was GOP Congressman Michael Grimm, who drew headlines last week for threatening to throw a NY1 reporter off of a balcony in Washington, D.C. Mr. de Blasio said that Mr. Grimm was not invited because of the issues he wanted to discuss, not because of the incident. (Former Councilman Domenic Recchia, a Democratic former councilman hoping to defeat Mr. Grimm in this year's election, did attend the prior Groundhog Day event.)
"We wanted to focus on very local issues, so we invited elected officials who wanted to just focus on that, not so much on the federal level," he said.
Last time Mr. de Blasio ate a meal in front of reporters on the island, he created a firestorm by eating his pizza with a fork and knife.
This time he avoided controversy, electing to eat his French toast with utensils.