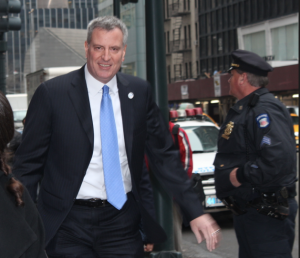 Members of the well-connected Real Estate Board of New York praised Bill de Blasio this afternoon after the mayor attended a closed-door meeting with the group.
While many in the business community had been nervous about the left-leaning mayor and his plans to up taxes on the rich and force developers to build more affordable housing, members of the group's board left today's sit-down offering nothing but praise.
"The mayor was excellent. He covered a wide range of things, all aimed at improving the economy of New York and improving our education. Very impressive," said Howard Rubenstein of the famed eponymous PR agency, who sits on REBNY's Exeutive Committee.
He said that Mr. de Blasio has been received "with open arms and with applause" by the group, and expected the mayor to work well with the industry in the future.
"He will. We made that promise," Mr. Rubenstein told reporters. "Generally, he was effective, he was well received, we applauded him. And we look forward to working with him."
Stephen Ross, the chair and founder of Related Companies, concurred. He said the meeting was "very good, excellent" and reported that the mayor had said "good things" about the need for more affordable housing.
"He reiterated a lot of the initiatives that he's been talking about on TV and in his press conference," another member added. "Very balanced," another remarked.
As he left the meeting, the mayor himself told reporters that his aim for the meeting had been to boost support for his plan to raise taxes on the richest New Yorkers to fund universal pre-K and after-school programs. The plan is facing steep resistance in Albany, which has to approve the revenue-raising component of the plan for it to take effect.
"The central purpose of the meeting was for me to make clear how important it is for us to move on pre-K and after-school, for the future of this city," Mr. de Blasio said. "I think nothing is more crucial in terms of our future workforce, the future of our economy, and by the way, in terms of what makes it such an appealing place for people to start a business, to own a home, or rent a home."
"It all has to do with the future quality of our school system, and that is going to be determined by whether we get full-day pre-K and whether we get expanded afterschool," he added. "So I made the case that this is absolutely crucial for all of the things that we're trying to achieve for the future of New York City."
Mr. de Blasio refused to answer questions, promising to discuss the meeting at an availability Thursday. His press office has not yet responded to requests for audio or a transcript of Mr. de Blasio's speech and remarks.
After he was criticized for delivering an unpublicized speech in front of AIPAC last month, Mr. de Blasio had promised to be more transparent with the press. "We certainly will improve our information system to let you know about something like the AIPAC speech. We're very comfortable doing that. We will do that," he'd said at the time.
Still, he seemed weary to commit to releasing audio of events organizers wanted closed to press: "In many cases, we'll be happy to do that. I'm not going to say every case because there could be some particular dynamic that would make that wrong," he said.
Additional reporting by Jill Colvin.