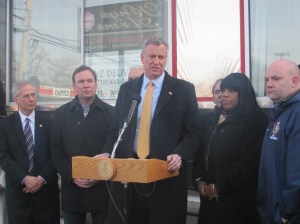 Mayor Bill de Blasio became the latest city official to receive a threatening letter ahead of the Super Bowl, police confirmed this morning.
The letter, received yesterday, did not contain white powder like the one sent last week to former Mayor Rudy Giuliani's office and other Super Bowl-related addresses, but included "threats to the city in general," an NYPD spokesman said.
It remained unclear whether the letter, which was first reported by NY1, was sent to Mr. de Blasio's Park Slope home or Gracie Mansion, the official residence he has yet to move into.
"Well, unfortunately the threatening letters do come with the job. You know, it's just unfortunate reality of our society. But I don't comment on security issues," the mayor told reporters this morning when asked about the letters after meeting with local residents and officials at a diner in Staten Island.
"So I have absolute faith that the NYPD is handling this and every other threat very well and very professionally, but I'm not going to comment on it," he added.
He was also declined to explain why the incident was reported by police, who typically keep such threats under wraps.
"Honestly, I don't think that's our typical approach," he said.
The powder sent to Mr. Giuliani tested "not toxic," according to police.