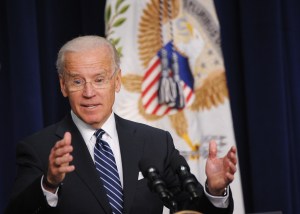 Mayor Bill de Blasio pounced on Vice President Joe Biden today for comparing New York City's LaGuardia Airport to "some third world country."
"Not his finest moment," remarked the mayor when asked about the comments at an unrelated press conference today at City Hall.
"I respect the vice president, but I think his comments were inappropriate," he said.
Mr. Biden was speaking in Philadelphia yesterday about the need for infrastructure investment when he said that if he blindfolded someone and took them to LaGuardia, the person would think they were in "some third world country."
But Mr. de Blasio said the comments were unfair to the notoriously run-down port.
"LaGuardia obviously needs an upgrade. But that being said, the airport manages an extraordinary amount of traffic and the people who work there make it work under very difficult circumstances," he said. "And so as a proud New Yorker, I didn't like that comment and I think it was not the right way to talk about it."