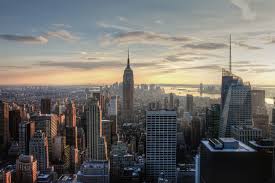 In his State of the City address yesterday, Mayor Bill de Blasio pledged once again to "preserve or construct nearly 200,000 units of affordable housing—enough to house between 400,000 and 500,000 New Yorkers—to help working people by literally putting a roof over their heads."
And, after announcing the remaining members of his housing "dream team" last Saturday—with Shola Olatoye heading up NYCHA, Vicki Been at the Department of Housing Preservation and Development, Gary Rodney as president of the Housing Development Corporation, Carl Weisbrod as City Planning chair and Alicia Glen as deputy mayor for housing and economic development—Mr. de Blasio has finally revealed when we can finally expect some details: May 1st.
For the moment, however, there is no indication of what such a plan, which will come a full five months into Mr. de Blasio's administration, will include among the many policy proposals put forth by the de Blasio campaign, among them mandatory inclusionary zoning, the legalization of "granny flats" and raising taxes on vacant land. Though the mayor's office apparently views the affordable housing plan that the Public Advocate's office produced under Mr. de Blasio a year ago as the blueprint that the administration's new housing officials will shape.
When asked for more detail on the May 1st plan, specifically, what policies previously discussed by Mr. de Blasio might be included in it, a spokesperson from the mayor's office sent The Observer a copy of "Foundation for an Affordable City"—that was put out by the Public Advocate's office in April 2013.
The eight point plan features recommendations, including some hard-to-implement ones with far-reaching potential—such as repealing the Urstadt Law, which was passed by the state legislature in 1971 and disabled the city from setting rent control laws that were stricter than the state—and implementing mandatory inclusionary zoning, which might serve as a way for the city to circumvent the Urstadt Law. Others are relatively straight-forward, common-sense approaches, such as increasing legal assistance in housing court to prevent wrongful evictions and expanding programs that protect seniors and the disabled from rent increases (the city would make up the difference). And still others, such as embracing public private partnerships and conducting an annual vacancy study, were also done under Bloomberg (at least, Scott Stringer's office conducted a Manhattan vacancy study).
When asked if this meant that Mr. de Blasio's housing plan as mayor would not differ from that produced by the public advocate's office, the spokesperson clarified that "the mayor's platform is expansive and touches on a range of issues, many of which are outlined on billdeblasio.com"—the website for the de Blasio campaign. Understandable, perhaps, for a mayor barely through his first month at City Hall, though one of the criticisms of Mr. de Blasio's administration has been that the new mayor seems unable to shift out of campaign mode and into role of actual governance.
And at this point, New York's affordable housing crisis has been well established. Even Michael Bloomberg, cast as the villain in the Tale of Two Cities narrative that Mr. de Blasio's followers have embraced, agreed with the importance of affordable housing. And though many dispute the methods he used to achieve it, or argue that the broader changes during his administration that arguably hurt the cause more than helped it, Mr. Bloomberg will have met, and perhaps exceeded, his goal of adding or preserving 165,000 units.
On Saturday, Mr. de Blasio promised a "total reset" of Mr. Bloomberg's approach to affordable housing that "holds nothing back." But to find out how Mr. de Blasio hopes to achieve the loftier goal of creating 200,00 units in what may well be a shorter time (not every mayor gets a decade), we will, apparently, have to wait to see which policy plans he puts into play. His State of the City address, in which he boasted that his administration would "lift the floor for New Yorkers crushed by skyrocketing rents…by requiring developers to build affordable homes for everyday people rather than simply multi-million dollar condos for the most fortunate among us"—would seem to suggest that mandatory inclusionary zoning—which would require developers to add affordable units, rather than simply incentivizing them to do so via tax breaks or zoning allowances—will be among them.
As for other policy questions, including the highly controversial NYCHA land lease plan that would allow developers to build market rate towers on public housing land to generate much-needed funds for the agency, we'll have to wait and see. The Times editorial board recently urged de Blasio to re-consider the Bloomergian plan, which Mr. de Blasio was highly critical of during his campaign. He has, however, seemed increasingly amenable to instituting an infill program, telling The Observer in December that "for any plan to be considered, it must create affordable housing, create jobs for NYCHA residents, and steer money back into NYCHA to address its backlog of maintenance and repairs."