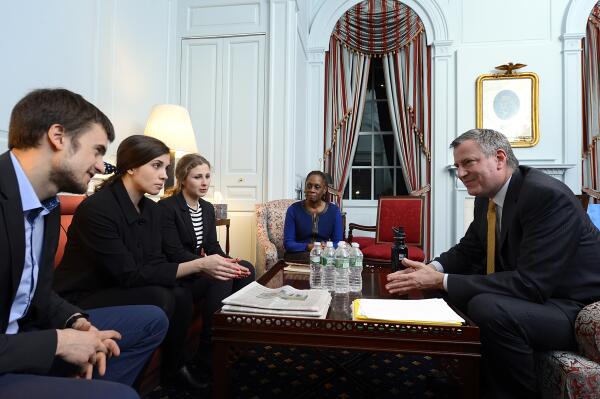 Mayor Bill de Blasio spent nearly than an hour this evening meeting with ex-members of the Russian feminist punk band Pussy Riot–longer, some noted, than he'd spent meeting with Attorney General Eric Holder last month.
The women–Maria Alyokhina and Nadezhda Tolokonnikova, who spent nearly two years in Russian prison for performing a government protest song in a Moscow Church in 2012–were warmly greeted by the mayor and his wife, Chirlane McCray, exchanging hugs and kisses on the cheek.
After the nearly hour-long meeting (even aides seemed surprised by the length) the group emerged. "We are Russians now," Mr. de Blasio told them to laughs as they said their goodbyes.
Afterwards, the women–who were reportedly booted from their group for performing at an Amnesty International concert in  Brooklyn Wednesday night, breaking a vow to perform only illegally–said through a translator that they had talked to the mayor about arranging visits to the city's prisons.
"We came to the mayor to discuss various issues about visiting American prisons. And what is important to us for now is establishing an organization and putting forward the cause which would allow international observations in prisons," they said.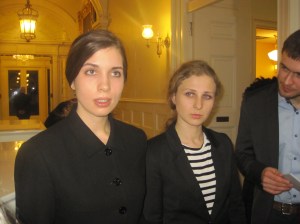 "He said that he sees ways to move in that direction and we are extremely happy that this is possible," they added, praising the fact that Mr. de Blasio had "demonstrated his desire to show the possibility to have some openness in structures which are everywhere around the world considered as the most closed facilities."
As for Mr. de Blasio himself?
"He seemed like a very wonderful man," they said.
Earlier today, the mayor heaped praise on the women.
"I am a tremendous admirer of what they're doing. I think they are speaking up for human rights. They're speaking out  against oppression and against the denial of the right to free speech. And their strength and resilience in the face of what they've gone through is truly inspirational to me," he told reporters.