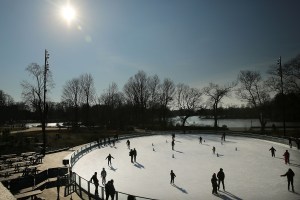 Mayor Bill de Blasio today named Emily Lloyd, who served as commissioner of the Department of Environmental Protection under Michael Bloomberg, as his choice to lead the DEP once again, marking the latest in an unexpectedly long list of return appointments and reshufflings.
But the mayor hinted today that he's eying a significant departure when it comes to his choice to lead another city agency: the Parks Department.
Parks, like a handful of city agencies, has been without a commissioner since Veronica White quietly departed at the end of last year.
"I think in the area of parks, I do have some differences and I've talked about some of the things we have to do to create greater fairness in terms of support for parks across the five boroughs," Mr. de Blasio told Politicker at a press conference announcing his latest round of appointments at City Hall.
Mr. de Blasio has yet to lay out the bulk of his agenda on the city's green spaces, which the previous administration has gone to great lengths to increase. As public advocate, he voiced support for a plan proposed by State Senator Daniel Squadron to create a "Neighborhood Parks Alliance" that would encourage large parks conservancies to share 20 percent of their proceeds to help fund smaller, neighborhood parks across the city.
He also proposed a new public-private alliance, similar to the Central Park Conservancy, to fund maintenance and upgrades in Flushing Meadows Corona Park. (One was created with seed money in July, as part of a City Council agreement that let the United States Tennis Association deal go through.)
Today, Mr. de Blasio remained vague, but suggested he was still committed to his agenda.
"I was critical of the previous administration in terms of some their approach to parkland and the disposal of parkland, for example, in the most recent situation with the soccer stadium, been critical of some of the ways that we fund parks and want to look for greater equity in that," he said.
Parks advocates have been eagerly awaiting Mr. de Blasio's choice for parks commissioner more than six weeks after his inauguration. Rumored potential successors for Ms. White include Queens borough commissioner Dorothy Lewandowski and Rose Harvey, the state parks commissioner.
Whoever takes over will be responsible for 29,000 acres of parkland, including Central Park, Prospect Park and every playground across the five boroughs. 
Under Mr. Bloomberg, the Parks Department was lauded for reviving the city's waterfront parkland, building glittering parks along the Brooklyn waterfront and spearheading the High Line in Manhattan. Critics like Mr. de Blasio complained that the Bloomberg administration neglected outer borough parks, doing little to rectify a funding model that relies on private donations.