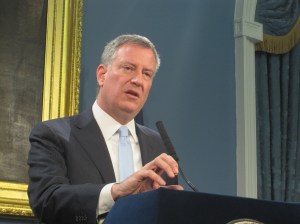 Mayor Bill de Blasio will not stop uniformed city workers from marching in the annual St. Patrick's Day Parade, despite calls from a flurry of lawmakers who want a boycott of the event, which bars the participation of openly gay groups.
"I believe that uniformed city workers have a right to participate if they choose to. And I respect that right," Mr. de Blasio told reporters today when asked about the issue at his latest appointment press conference at City Hall.
LGBT leaders and other officials, including Public Advocate Tish James, wrote an open letter to the mayor yesterday in the Gay City News calling on him to "Ban Uniformed City Personnel in Discriminatory St. Pat's Parade." The police commissioner and uniformed police, firefighters and other city personnel typically march in the parade down Fifth Avenue every year.
"The presence of uniformed police and firefighters in such a procession sends a clear signal to LGBTQ New Yorkers that these personnel, who are charged with serving and protecting all New Yorkers, do not respect the lives or safety of LGBT people," they wrote. "We are asking you to direct all City departments not to organize marchers for or allow personnel to participate in this anti-LGBTQ procession either in uniform or with any banner that identifies them with the City."
Mr. de Blasio, who has personally boycotted the parade for years and will not attend this year, declined to expand on his comment, but was clear in his message.
"I've said what I think. I respect the right of our city workers to march in uniform, period," he said.
Mr. de Blasio's decision not to attend is a break from former Mayor Michael Bloomberg, who marched in the the parade each year.
"I will be participating in a number of other events to honor the Irish heritage of this city," he said. "But I simply disagree with the organizer of that parade in their exclusion of some individuals in the city."
Update (12:28 p.m.): Asked about Mr. de Blasio's comments, Ms. James told Politicker that her advocacy was not against individual city workers marching wearing uniforms on their own volition, but rather city agencies participating in the parade.
"I don't think the letter was intended towards individuals wearing their respective uniforms. I think it was agency-sponsored," she said outside of City Hall. "I oppose any agency-sponsored [presence.] If individuals want to exercise their First Amendment right, I don't have any problem with this."