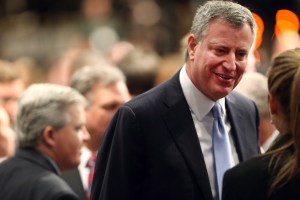 Mayor Bill de Blasio declared today in his State of the City address that he will urge state lawmakers to grant New York City the power to raise its own minimum wage, setting up yet another struggle between progressives and right-leaning lawmakers in the state. 
This campaign, however, could face even more resistance in Albany than Mr. de Blasio's plan to hike taxes on the rich to fund universal prekindergarten, experts say. 
One obstacle will be the Senate Republicans, who today threw cold water on the possibility that they'll allow a vote on Mr. de Blasio's pre-K proposal. They are likely to oppose the idea after agreeing to hike the state's minimum wage last year.
"The current law is the result of a three-way agreement between the Governor, Senate and Assembly, and we have no plans to revisit that law," said Scott Reif, a spokesman for the Senate GOP, which controls the chamber along with a handful of breakaway Democrats. "Senate Republicans remain focused on policies that create new, good-paying jobs and reduce the high cost of doing business in New York."
The issue, observers say, is not simply that Mr. de Blasio's plan would rankle business interests that are often opposed to minimum wage increases. The greater hurdle, even sympathetic progressives privately concede, is convincing major players in the state legislature to relinquish a crucial power they wield over local municipalities across the state. 
"If Shelly Silver does that, how do you then turn down any other locality? You're basically asking Albany to diminish their own power source," one longtime Albany insider told Polticker, referring to the powerful speaker of the State Assembly. "The mayor obviously doesn't care about his batting average in Albany."
Mr. de Blasio's latest request is not necessarily dead on arrival, though. Mr. Silver, already allied with Mr. de Blasio on his pre-K proposal, has pushed for a minimum wage hike to be phased in statewide much sooner than the plan passed last year. The speaker–who did not immediately respond to a request for comment–could conceivably back Mr. de Blasio's minimum wage plan as well.
Nationally, President Barack Obama and other top Democrats have pushed for a federal minimum wage hike, lending momentum to Mr. de Blasio and his allies. The Working Families Party, an increasingly emboldened political force, is fully behind the proposal. And if the Democrats' push to accelerate a statewide minimum wage hike proves too ambitious for Senate Republicans and Mr. Cuomo, Mr. de Blasio's plan–a minimum wage hike only for New York City–could be viewed as a compromise. 
"There should be a certain element [in Mr. de Blasio's proposal] that appeals to smart, forward-thinking Republicans," said Matt Rey, a partner with the left-leaning consulting firm Red Horse. "They could see this in the frame of mandate relief, taking power from the state and giving it to localities. For Democrats, it makes the city a progressive laboratory."
"There's certainly a message that would appeal to both parties on this issue," he added. 
But even proponents of the hike, like Comptroller Scott Stringer, acknowledged the uphill battle.
"I think it's a very challenging time any time you have to go to Albany," he told Politicker after the speech. "But I will tell you there is precedent on this. When Mayor Bloomberg got elected, he wanted school governance. He was able to achieve that. Mayor Dinkins was able to achieve Safe Cities, Safe Streets. There is a tradition that a mayor gets to go to Albany and gets the first thing. And I hope they respect that because this is what the voters of our city want."
Pressed on what that "first thing" should be, he said, "The mayor has said it should be pre-K and it should be pre-K. While you're at it, it'd be nice to give us the opportunity to raise the minimum wage so we can help the poorest people in the city."
Jill Colvin contributed reporting.