Derek Jeter will be remembered for a lot of accomplishments, but one stands above the rest.
He is a modern sports icon that survived New York media.
You see, New York has a tendency to chew once-beloved sports figures up and crap them out the moment they disappoint.
And the ones who manage to avoid this do it to themselves, marring their careers in controversy.
Not Mr. Jeter. Yankees president Randy Levine told the New York Post "he is one of the greatest Yankees of all time and one of the greatest people ever." And you felt that. There were no steroid trials, no drunken rants, no fan altercations.
Sure, he was kind of a whore, but people loved it, like he was the cool older student that got all the girls but still had time for the band geeks. He was the golden boy, until the day he retired.
Through all the crap of this era in baseball, Derek Jeter gave you something you could still believe in. #Jeter #Yankees — Mike Greenberg (@Espngreeny) February 12, 2014
Who else in recent memory can say that? Who else did New York put their trust in, and they actually deserved it?
Certainly not Mr. Jeter's former teammate Alex Rodriguez. A-Rod wasn't the cool older student. He was the asshole who cheated his way on to the varsity team and wore his letters anyway. He recently dropped his ridiculous lawsuits against the MLB and accepted his 162 game suspension for steroids. Not a lot of people are mourning, but they are mocking.
The New York Rangers will play more games at Yankee Stadium this year than Alex Rodriguez — NY Rangers Zone (@NYRangersZone) January 27, 2014
Who else has come close to Mr. Jeter? Eli Manning?
The two-time Super Bowl winning, Tom Brady slaying, billboard gracing quarterback of the New York Giants? He was close, but he make a crucial error in New York. He disappointed us.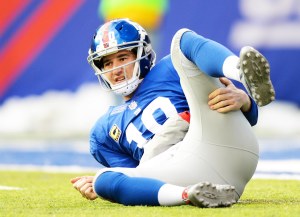 He threw the most interceptions in the league last year. He generally looked lost for most of the year which resulted in missed playoffs.
Again. Eli Manning isn't on billboards anymore. Forget Twitter, ask anyone on the streets if they still believe in Eli Manning.
At least he lasted longer than Mark Sanchez. He brought that other New York football team to the AFC Championship twice in a row, and people rejoiced. Then the AFC Championship games stopped. Then the playoff games stopped. Is Mr. Sanchez mocked by the media now? His infamous "butt fumble" had to be retired by ESPN's "Worst of the Worst" segment, because no sports mess-up could beat it week after week.
Over in basketball, I remember the acquisition of Carmelo Anthony was supposed to rejuvenate the New York Knicks. And he does bring a certain star power, and talent to boot. I still think that. But, then he closed out his 2013 by telling a fan "I didn't ask for your glazed donut ass face to root for me anyway!!!" Proof that if it isn't something on the court, it is something off the court. Mr. Anthony said that, to a fan, because the fan was disappointed in him. In his performance.
Maybe I'm caught up in retirement, but Mr. Jeter would not do that. That is why his bowing out is a big deal. Since 1996, Mr. Jeter has been a New York icon without telling off the fans, without cheating to win and without the media turning on him. Most impressively, at least to me, we never turned on him either.