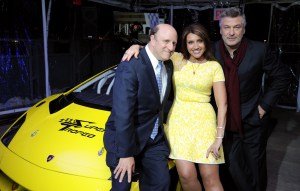 "What is the point of a Super Bowl party that's not during the Super Bowl?" a friend asked The Transom last Wednesday, when we told her our plans for the night were to go to a "Big Game" party hosted by Deadspin and Jaguar. "So just… a party?"
It was a fair enough question, made more complicated by some tricky wording on the invitation: "I legally cannot say the name of the event that is happening… to justify this party." At least one attendee went all in anyway, though, wearing a hand-sewn Seattle Seahawks sweater he said had been made for a family friend in 1980. "It hasn't been cleaned in a while," he said, despite which he planned to wear it straight through until the game. "I'm just not going to eat mustard for the next few days."
We were soon to discover that the point of a Super Bowl party held several days before the game was to provide an excuse to park a rare, expensive vehicle indoors. At the Deadspin party, a new Jaguar F-Type Coupe was on display; and at the "Big Game Big Give" party on Friday, hosted by Alec Baldwin at the Tribeca Rooftop, the décor included two Lamborghinis, the low-to-the-ground doors of which were nimbly navigated by women in platform heels.
Steps away from the Lambos, one such woman stopped another, Kyle Richards, erstwhile child actress, and aunt to Paris Hilton, to gush that Ms. Richards was even more beautiful in person than in her role on The Real Housewives of Beverly Hills. Which team did Ms. Richards root for?
"I have to say whoever my husband tells me," she told us. "He says Broncos, so I say Broncos. I don't care at all, I just ask my husband, and that's the one time he's the boss."
It was easy to find Ms. Richards' ambivalence about the game echoed on Super Bowl Sunday proper, possibly because The Transom elected to stay downtown. When we arrived at Highline Ballroom for a viewing party being thrown by Bounce Sporting Club, we saw plenty of jerseys—and plenty of leather jackets, too, along with at least one Sex Pistols T-shirt.
Taking a chance, The Transom asked a group of three pretty women whether they cared who won the game. "No," they responded at once.
Did they know who was playing, even? Again, negative; again, in unison.
"We don't care at all," one of the women, who had a partially shaved head, volunteered. "Her friend's DJing," she said, gesturing to one of the others, who sported a slick ponytail and dark, perhaps Lorde-inspired lipstick.
When we realized the services of her friend the DJ were being employed mostly to drown out the commercials, we skipped down Tenth Avenue to the Jane Hotel. A small group of stylish friends, mostly associated with publicist Sydney Reising and her business partner Stephanie Gotch – among them T Magazine style director Kate Lanphear, skateboarder Eli Reed, milliner Gigi Burris, and singer Alison Valentine – were gathered around an HDTV in its homey ballroom.
"What team are you guys rooting for?" Ms. Valentine asked, soon after we arrived. The Seahawks, we responded, an allegiance we'd chosen that morning upon discovering that a gray-and-blue striped sweater was clean.
"That's the Seattle one?" she said.
The crowd at the Jane had other matters on its collective mind. "Steph, I like our oxford moment," Ms. Reising said to Ms. Gotch, upon discovering they were wearing the same button-front Everlane shirt. "The dip is fat-free!" Ms. Lanphear trilled, referring to a buffalo chicken concoction Ms. Burris had made.
Indeed, Ms. Burris' dip – along with the Scientology commercial, and the appearance of the Red Hot Chili Peppers' Anthony Kiedis during the halftime show – drew perhaps more vocal responses from the partygoers than the touchdowns did. To be fair, the dip was very tasty. "It's from Hungry Girl, which is kind of a 'rexy website," specializing in low-calorie substitutions for indulgent snacks, Ms. Burris explained. "They're all rice cakes and Greek yogurt."
Once the game ended, the Jane cleared out pretty fast, with only a few stragglers staying behind to watch Prince's appearance on New Girl. They needed to get some rest before the really important February event: Fashion Week was only four days away.