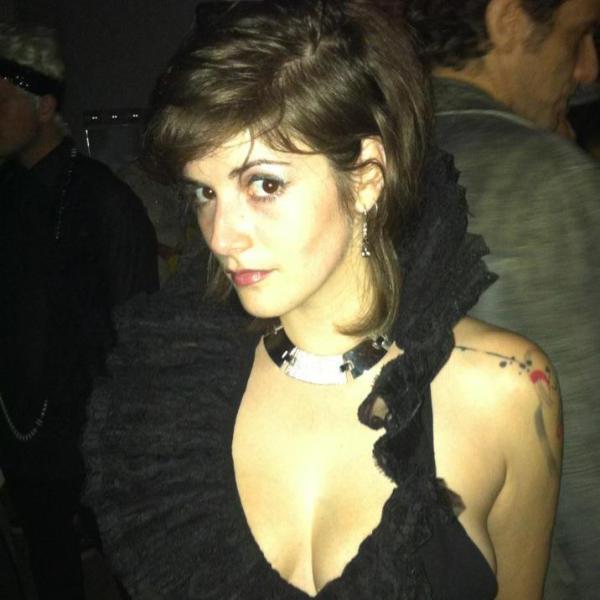 No one is ever going to confuse me for Jackie Onassis, Grace Kelly or Babe Paley. If you put me in a room with Jean Seberg, Audrey Hepburn and Marella Agnelli, you would not have a hard time playing that Sesame Street game "one of these things is not like the other." 
Out of the list of things that I've wanted to achieve in my lifetime, "fashion muse" didn't even crack the top 100. Musedom probably ranked much farther down the list, probably between other pie-in-the-sky fantasies like "growing wings" and "earning a doctorate in chemistry." I am really bad at maths and science and I have terrible taste in clothing is what I'm trying to say.
So believe me, I was as surprised as anyone when I reached out to my friend designer Gemma Kahng for advice on this year's Fashion Week and was told that I had helped inspire some of her collection. I've been wearing Ms. Kahng's outfits for more than a year now (in fact, one of my first Menace to Society stories with photographer Patrick McMullan featured an original piece of hers), and in that time, the iconic designer has made a meteoric comeback. Look no further than her Times style section profile, "The Second Life of Gemma Kahng," which ran a mere three months after my column. I'm not saying I'm a cultural trendsetter, but come on! That can't be a coincidence!
Those of us around in the '90s will remember Ms. Kahng's pant suits, especially the one worn by Madonna on the cover of Vanity Fair in 1992. Her clothes were worn by strong, fashion-forward women like Sharon Stone and  Christy Turlington. But the Art Institute of Chicago alumn found that her style didn't translate into early-aughts couture. She reinvented her style in 2011, with the help of Elle's creative director, Joe Zee, on his Sundance show, All on the Line, and created a new look for a new millenium. Last year, she presented during Fashion Week at the Soho lounge Goldbar, with a collection inspired in part by Native American culture.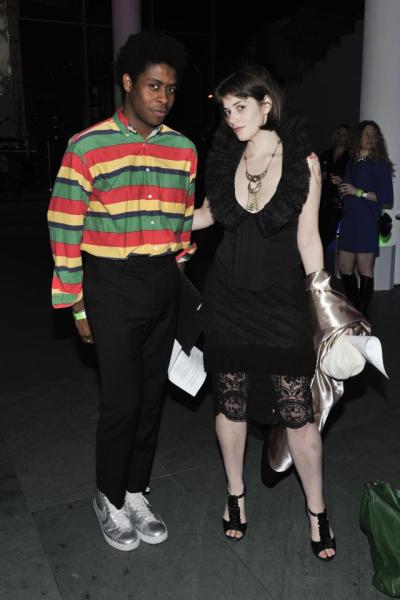 What drew me to Ms. Kahng's new designs was their theatricality. Many of her items feature a sort of post-punk-by-way-of-Miss Havisham aesthetic that appeals to the little Ren Faire girl inside of me. When I wear Ms. Kahng's dresses, I feel like the lovechild of Beetlejuice's Lydia and Marla Singer in Fight Club: all black leather, red ruffles and white lace. Even though I felt a kinship with Ms. Kahng's style, the last thing I expected to see when I walked into her studio was one of my own staples in her current collection, which is currently on sale at Neiman Marcus, as well as smaller, couture boutiques in the city. 
I had picked up the red leather jacket in Philadelphia over a decade ago: With a short, stubby collar and a cool Motocross kind of design to it, the only clue to its origins was the old Centuine Leather label sewn inside. I had worn it only a handful of times in the last couple of years, notably when I was covering Occupy Wall Street and wanted to fit in with the more unsavory elements down there.
When I stopped by Ms. Kahng's studio last month—the first time I had visited her space in the 20th floor of a nondescript building in the Garment District since last year's Met Costume Gala (where I sported a Gemma Kahng original and an eyepatch, not because I was punk, but because I had a stye)—I saw a nearly identical replica of my red leather jacket. Ms. Kahng had taken my original design and cut strips out of it and replaced the missing piece with black lace, creating a delicate design that gave the biker jacket a more girly feel. I can't say that the jacket was 100 percent based on my original, but it was close enough to give me pause.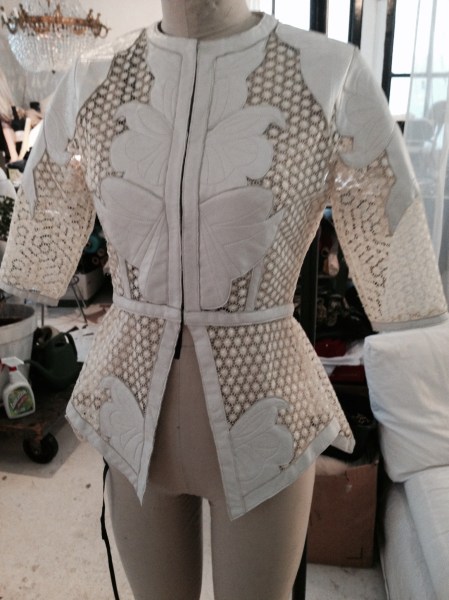 But I must be crazy, right? It was just a coincidence. I certainly don't embody graceful elegance or timelessness or any one of the myriad of terms used to describe people who inspire clothing collections.
 So imagine my surprise when Ms. Kahng told me I was one of her muses. 
"Not Madonna?"
"Lately, I have been focusing a lot on regular women," Ms. Kahng admitted. "It could be someone whose a friend or a friend of a friend. I know it when I see it: Someone would come in, try something on, and everything looks good on them. Then she's my muse; she has inspired me."
The process is a pretty simple one, Ms. Kahng said. "If I think that they look fantastic in an outfit, the next season I will think about her, the way she looks; it will give me some ideas.'"
Nor was she just trying to make me feel better: Ms. Kahng showed me the sketches for two dresses based on my personal style that she plans on incorporating into her line next season: The model's face was even based on some photos that Ms. Kahng had found of me online.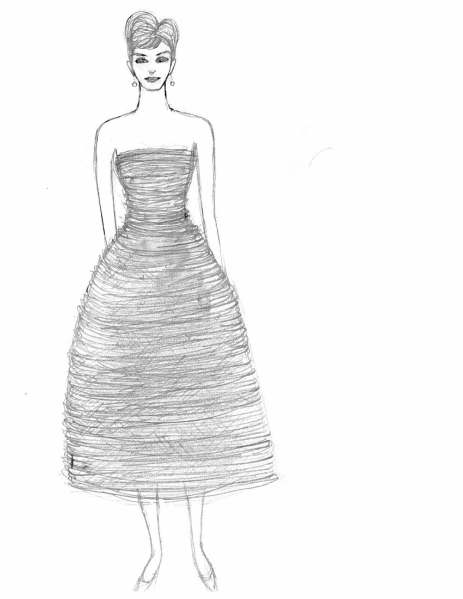 "They've got that vintage feel," she said of the dresses, "It's so simple. It's all about the shape and the texture." The first dress, a full-length, strapless number with an hourglass shape, would be made entirely with gathered tulle.
"You've got a lot of curves, so when I was designing this, I had to think of something where everything would be kind of … squished in," Ms. Kahng told me.
 "I see it in either red or black," she said. "It can't be too complicated in its colors; it's got to be kept pretty simple." Pretty good advice for the kind of woman who loves power-clashing as much as I do. For someone like me, texture is key: It's a way to draw attention without overdoing it on the details. My favorite outfit of Ms. Kahng that I own actually has this flared collar and plunging neckline that makes me feel like one of the dinosaurs that spits up on Newman in Jurassic Park but, like, a sexy dinosaur.
The second dress Ms. Kahng used me as a muse for was a little more complex. The most interesting thing about it, Ms. Kahng told me, would be the length: a little below the knee, with a draping skirt that cascaded down with flowers and a sheer cut-out neckline that would be embroidered with beadwork. "It needs to look like it's almost falling apart, though not quite."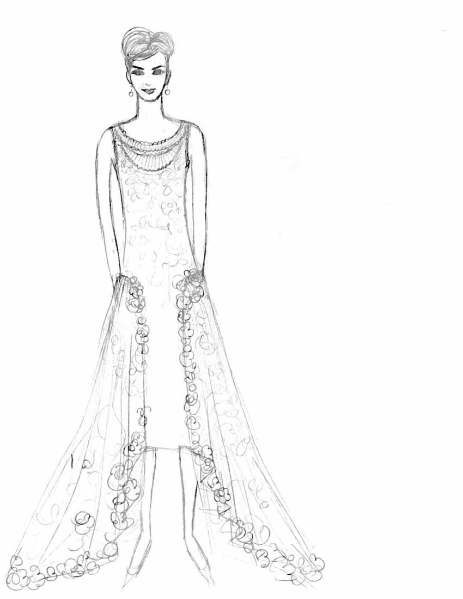 Once again, though, the color palette would be kept to white and sheer. "It's very romantic, very feminine and a lot of drama. It's reminiscent of a bygone era," Ms. Kahng said. "People don't live like that anymore, people don't dress like that anymore, but someone like you could pull it off." People always did tell me I looked like I was falling apart at the seams, and now there was a dress to prove it.
I was beyond touched. Obviously, I would need to buy these dresses; they were literally made for me. But since they didn't exist yet, I wouldn't be able to find them when Ms. Kahng showed her collection during Fashion Week with a presentation/cocktail reception on Feb. 6, the first night of the shows. Like many designers, she has eschewed Lincoln Center for a smaller venue, the Rox Gallery on Delancey Street, which was owned by a friend. (The red jacket, however, would be on display.)
Meanwhile, Ms. Kahng asked, maybe I needed another dress to wear for my wedding reception. 
Eat your heart out, Jean Seberg! Sometimes, this job ain't half bad.