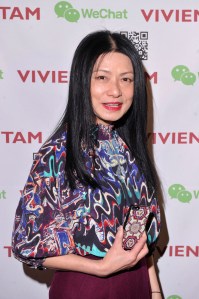 Successful fashion/tech mashups are tough. For every chic designer iPhone case, we can point to a gimmicky USB cord bracelet nobody asked for. Still, once in a while, the two industries blend seamlessly. This post is part of a series on tech and fashion collabs that got it right this Fashion Week.
Vivienne Tam is known for mixing Chinese influences with Western style in her sweet, feminine collections, and for integrating technology into her shows. She created a laptop with Hewlett Packard in 2008 and worked with Jack Dorsey's Square in 2011.
This season, she opted to bring Chinese app WeChat into the mix. Already popular in China, WeChat recently launched in the U.S. It's an all-inclusive app that allows users to chat, post photos, use emoticons and create profiles, as Ms. Tam did for her show on Sunday night. She even ran a contest through the app, with two cute young fashion fans winning the chance to meet her backstage at her show.
Signing up for yet more texting and social media sites is probably not at the top of most to-do lists, yet global citizens like Ms. Tam will likely find WeChat's free international messaging incredibly useful.
"It enables me to communicate with my global customers and global fans," Ms. Tam told us backstage. "I think it's incredible, so fun."
She added that tech and fashion are a natural fit for collaboration.
"It's not difficult at all," she said. "I think one enhances the other."
The iPhone 5/5S cases she doled out at the event could prove it. Like her whole collection, they bore art inspired by China's Dunhuang Cave paintings — but on the phone cases, the pattern was offset by a giant scannable QR code in the center. A quintessential fashion-meets-tech artifact.