In New York State, the Office of the Attorney General provides an unrivaled platform. From 1999 to 2006, Attorney General Eliot Spitzer earned national recognition as the "sheriff of Wall Street." Andrew Cuomo followed from 2006 to 2010, restoring confidence in state government by prosecuting members of his own party. New York's two most recent elected governors both "graduated" from attorney general. Depending on the 2016 presidential goals of Hillary Clinton and Governor Cuomo, Eric Schneiderman could find himself the favored candidate for governor. 
Every element of the job tests the occupant's ability to govern: managing a bureaucracy, working with the governor and using the power that comes with the office. The attorney general can direct the national agenda on key issues. 
Mr. Schneiderman ran for attorney general in 2010 as a progressive Democrat who would "insist that corporations play by the rules." He also recognized the importance of New York's position as the world financial capital and that "keeping the securities industry strong requires a strong regulatory regime that assures investors that the marketplace is fair and that the playing field is level." 
So how does Attorney General Schneiderman rate as a tough but fair regulator of business? Has he been able to use his powers in a way consistent with New York's need to create jobs and encourage investment and innovation?
Indiscriminate use of scorched earth tactics against big companies could potentially rebound to the detriment of New York's business climate—a climate currently ranked dead last in the nation. 
For new and innovative businesses to develop in New York, law enforcement cannot take the position as an automatic adversary. In one recent example, Mr. Schneiderman rejected or ignored the attempts of a company to adapt its business model to the law or to help adapt the law to its new business model.
Started in San Francisco in 2008, Airbnb is one of the most visible players in the new "sharing economy." Hosts list accommodations on the site, hosts and guests can post reviews and ratings of each other, and Airbnb gets a transaction fee when some stranger stays in the unused apartment of an owner. 
 Fast Company just named Airbnb its sixth most innovative company and noted that "Airbnb will usurp the InterContinental Hotels Group and Hilton Worldwide as the world's largest hotel chain—without owning a single hotel." Airbnb lists rentals in more than 34,000 cities; in New York City, this represents a new solution to a desperate need for accommodations. In 2012, the city played host to 52.7 million visitors, who spent nearly $37 billion. That spending supported more than 339,000 jobs for the city and generated taxes of $9.3 billion. The average daily room rate in New York City was $281 in 2012. Despite the cost, occupancy was at 87.6 percent in 2012, the highest in more than a decade. Based on interim numbers for May 2013 by Crain's New York Business, occupancy has risen further still, to 91.9 percent.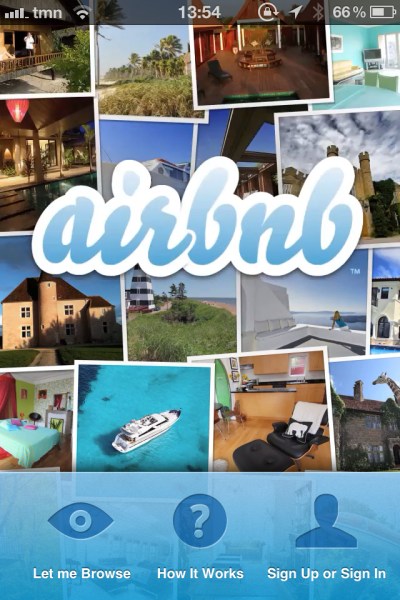 The city has a problem with the location of those too-few, too-expensive available rooms. The hotels are clustered in a small portion of Midtown Manhattan. Due to the growth under Mayor Michael Bloomberg of so many additional neighborhoods in the city, the wider metropolitan area is simultaneously undergoing a tourist-attracting renaissance and lack of hotels to serve tourists arriving to the Brooklyn they see depicted in Girls or a friend's wedding in the Bronx. Airbnb helps solve that problem and even helps keep the wedding guests' money in shops, restaurants and attractions near the wedding instead of concentrated in Midtown.
Airbnb has faced a number of legal obstacles, along with opposition by the politically powerful hotel industry. The company has taken a constructive approach. In May 2013, after one of its customers was fined $2,400 for violating a 2010 law limiting short-term rentals of residences, the company assisted in a successful appeal. As David Hantman, Airbnb's head of global public policy, wrote last September: "Under New York law, as long as a permanent occupant is present during a stay, the stay does not violate New York's short-term rental laws. Much of the New York law is confusing, with some provisions applying to certain buildings and not to others. But this shared space provision was crystal clear. We intervened in this case, because the initial decision on Nigel [Warren]'s case was so clearly wrong, and we are pleased to see that the board agreed."
The next week, Airbnb CEO Brian Chesky used the media attention generated by the legal victory to reach out to New York government. On his blog, he wrote: "We want to work with New York to pass laws that meet three fundamental legal principles: (1) … Regular people renting out their own homes should be able to do so … (2) … It makes sense for our community to pay occupancy tax … (3) We are eager to work with New York to remove bad actors in our community that are causing a disturbance to their neighbors."
The attorney general responded by issuing a subpoena seeking three years of the company's data encompassing 15,000 New Yorkers who rented through Airbnb. Airbnb and the Office of the Attorney General disagree on whether this is the same as data provided by similar online services or "unreasonably overbroad." Apart from the legal burden of compliance, sharing the names and details of its customers would surely chill the company's relations with all of its apartment sharers. A spokesman for the Office of the Attorney General told NY1 News, "New York can't afford to leave this much money on the table," implying the threat that the state will retroactively go after those 15,000 customers for past occupancy taxes.
On Oct. 22, 2013, Airbnb released the results of a study by HR&A Advisors showing the positive contribution the young business has made to New York's economy. Guests of Airbnb hosts generated $632 million in annual economic activity, and its guests paid $31 million in sales taxes. The study also found that Airbnb visitors stayed an average of 6.4 nights (compared with 3.9 for hotel guests) and spent $880 at local businesses (compared with the average of $690). Second, "Airbnb brings visitors to neighborhoods that traditionally have not benefited from tourism. Eighty-two percent of Airbnb listings in New York are outside of the main tourist hotel area of Midtown Manhattan, and the average Airbnb guest spends $740 in the neighborhood where she stays."
Why has Mr. Schneiderman shown such an intense interest in hassling this promising Internet company, which would seem to be the exact kind of high-tech win-win deal that Govenor Cuomo has crisscrossed the state trying to attract to New York? It's mystifying. A look at Mr. Schneiderman's donations doesn't provide many clues. Amid gigantic donations—from trial lawyers (Arthur Luxenberg and Perry Weitz gave $12,500 each), a tin and music publishing oligarch (Len Blavatnik gave $5,000), malpractice insurers (the Long Island firm Physician's Reciprocal Insurers, headed by Anthony J. Bonomo, has been particularly generous; in addition to PRI's $10,000 on a single day, Nov. 3, 2011, Anthony himself gave donations of $10,000 and $5,000, while other members of the Bonomo family chipped in $14,000; Julianne, Anthony and Jaclyn all doubled down this past June, at $5,000 apiece; and so did PRI, which cut a check for $25,000 on March 29, 2013, and another $15,800 on July 8, 2013), Republicans (John Catsimatidis gave $35,000) and garden variety progressives (George Soros gave $10,000)—there don't seem to be outsize donations from the hotel industry, which stands to gain from the harassment of a tech-savvy competitor. 
While the New York Hotel and Motel Trades Council did contribute $12,000, the donations don't tell the whole story. But perhaps the inchoate way Mr. Schneiderman has staffed his office provides a clue.
Many regarded Mr. Schneiderman's first chief of staff, Neal Kwatra, as a failed appointment. Mr. Kwatra cut his teeth as the political director for the New York Hotel Motor Trades Council and according to New York magazine "sees life as a campaign." Indeed, Campaign & Elections magazine sang Mr. Kwatra's praises because of his work with the New York Hotel Motor Trades Council: "A slick and aggressive young operative, he's widely credited for turning the small union into a power player at both the city and state levels."
 A talented political operative, Mr. Kwatra was a strange choice for chief of staff for a job that ought to be nonpolitical. Mr. Kwatra left his post as the attorney general's chief of staff—to near-unanimous cheers from staffers The Observer spoke to—and one of the first things he did after setting up his own political shop was to recruit a big client, his old pal the Hotel Trades Council. Another early client of the newly repolitical Mr. Kwatra was the launch of Mr. Spitzer's campaign for comptroller, which was complex given its late start. But according to The New York Times, Mr. Kwatra's loyalty to his hotel clients was so strong that he "decided to cut his ties with the campaign amid signs that some of his clients, including the city's Hotel Trades Council, which is backing [Scott] Stringer, were cool to the Spitzer candidacy."
Another connection between the hotel industry and Mr. Schneiderman might shed some light as well. Mr. Kwatra's replacement as chief of staff was yet another talented political operative, Micah Lasher, whose first job—at age 16, according to The New York Times,—was deputy campaign manager for Mr. Schneiderman's first State Senate campaign in 1998, which he parlayed into founding New York's premier Democratic consulting firm, SKDKnickerbocker. Before rejoining Mr. Schneiderman's staff as Mr. Kwatra's replacement, Mr. Lasher spent 15 months as executive director of the education reform group StudentsFirstNY, but before that, he worked for Mayor Bloomberg as the administration's chief lobbyist in Albany. While there, one of his big passions was—drum roll—getting legislation passed that banned "illegal hotels." 
Mr. Lasher boasted to friends that he "wrote" the legislation that was adapted by the legislature, spearheaded by Mr. Schneiderman's liberal ally in the State Senate, Liz Krueger. Oddly, even after Mr. Lasher joined the A.G.'s office, he was still advocating for the law that he lobbied for. On Oct. 22, 2013, Mr. Lasher wrote a congratulatory tweet to a Daily News article that "cuts through the hyperbole and brings sanity to the Airbnb discussion"—an article that echoes Senator Krueger's skepticism of Airbnb's position.
Others in the business community have also expressed concern about the attorney general's hostility, especially as New York State struggles to create jobs. One person with close ties to Hank Greenberg has watched in amazement as the case has dragged on, and he links the two issues: jobs and the legal climate. 
"I'm not a big fan of Spitzer, Schneiderman or Cuomo, but of the three, Cuomo did the least amount of damage to the business community. And Cuomo is now experiencing what George Pataki experienced when he was governor and is trying to bring jobs to the state. Actually, forget bring jobs; he's trying to keep jobs in the state, but because of Schneiderman, people are essentially telling Andrew, 'Go fuck yourself.' I'm moving jobs out of here. There's no way I'm going to have any contact with New York. You do something about your pal Schneiderman, but until then, expect the jobs to keep leaving. And I've heard from Andrew directly, directly from his mouth, that he thinks Schneiderman is an empty suit." 
The Observer asked this source why he thinks Mr. Schneiderman would adopt a position so hostile to business, and the source blamed, as did others above, an exceptionally weak staff.
"His staff is, like, abysmal. The quality of people he has working in his office is piss poor. One of his senior trial lawyers, the guy that's running point against Ernst & Young and against Hank, the senior trial lawyer on this case, is a guy named David Ellenhorn. He was a named partner in a 20-lawyer law firm that blew up in 2002 after the S.E.C. investigated Bank of America Securities." 
The source is referring to Solomon, Zauderer, Ellenhorn, Frischer & Sharp, which represented B.A.S. at the time it was fined a record $10 million by the S.E.C. for refusing to turn over documents. The firm, now defunct, was skewered by the S.E.C., which said the firm's "lawyers simply did not turn over documents for months at a time, said some were 'missing' when they weren't and engaged in dilatory tactics that delayed the investigation."