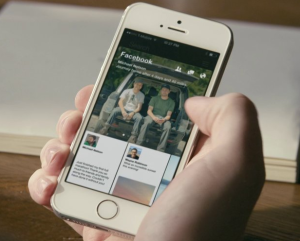 With Facebook's track record of introducing dumb features, we should have known that Facebook's seemingly cool new update wouldn't go off without a hitch.
Last week, the social media site unveiled Paper, a new aesthetically-pleasing mobile app that strips your Facebook timeline down to the bare essentials. Unfortunately, Facebook seems not to have realized—or not to have cared—that Paper is already the name of another app.
As VentureBeat reported, Paper is the name of startup FiftyThree's app, which lets users unleash their creativity with simulated drawing and painting materials. It was named Apple's 2012 App of the Year.
FiftyThree's cofounder and CEO, Georg Petschnigg, isn't so thrilled about the situation.
"So it came as a surprise when we learned on January 30th with everyone else that Facebook was announcing an app with the same name—Paper," he wrote in a blog post. "Not only were we confused but so were our customers… and press… Was this the same Paper? Nope. Had FiftyThree been acquired? Definitely not. Then, what's going on?"
According to Mr. Petschnigg's post, Facebook has apologized for "the confusion their app was creating," and for "not contacting [Paper] sooner," but it hasn't actually offered up any kind of solution to the problem. 
"There's a simple fix here," Mr. Petschnigg wrote. "We think Facebook can apply the same degree of thought they put into the app into building a brand name of their own. An app about stories shouldn't start with someone else's story. Facebook should stop using our brand name."
Betabeat has reached out to Facebook for comment, and is awaiting reply.