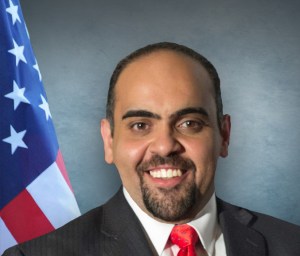 The pool of Democratic Party candidates vying for a congressional seat slated to be vacated by U.S. Rep. Jon Runyan (R-3) is expanding.
Jack Fanous, the co-founder and executive director of the veterans group G.I. Go Fund, confirmed he's pursing his party's nomination in Ocean and Burlington counties. He is one of at least three Democrats who have tossed their hats in the ring.
"I'm in," Fanous told PolitickerNJ, arguing that, unlike his Democratic rivals, he can appeal to a base that traditional leans Republican.
Fanous told PolitickerNJ in December he was mulling a run.
"I am raising money and things are looking pretty good," he said. "The Democratic Party is looking for a path to victory … and I believe I'm the only one in the race who can actually win the race."
Fanous says he raised $100,000 since setting up his campaign account last week.
He's joining Burlington County Freeholder Aimee Belgard and corporate lawyer Howard Kleinhendler in the fight to win the Democratic nod to challenge one of at least 16 Republicans who are interested in capturing the right-leaning district seat.
Unlike his Democratic rivals, Fanous says he can appeal to thousands of veterans – 78,000 by his count – who reside in CD 3 and who traditional lean Republican.
"I bring a demographic that generally doesn't vote Democratic," he said.
The announcement comes the same week the South Jersey Democratic establishment appeared more than ever to be coalescing around Belagrd, who took the stage Monday with state Sen. Donald Norcross for the lawmaker's congressional kick off.