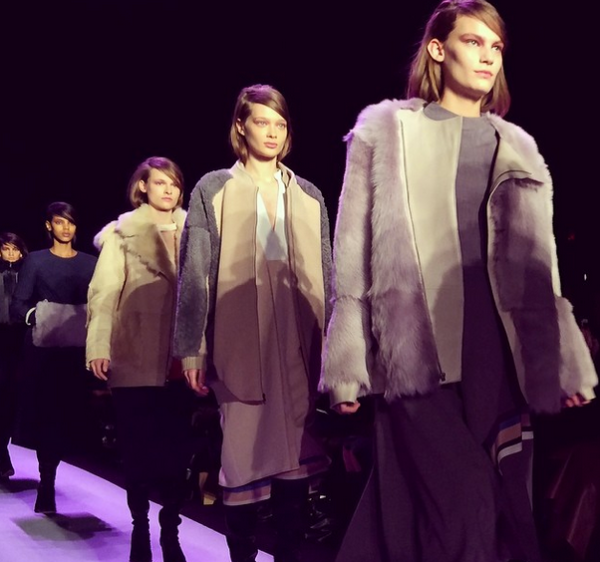 As much as we love Fashion Week, anyone who has ever been to the shows will tell you that it's not an easy stroll down the tents. Instead, you have to contend with late start times, harried ticket scanners, dying electronics (due to lack of outlets at Lincoln Center/Eyebeam), and a myriad of other FW-related crises. In that spirit, we're covering this season's Fashion Week with YOU in mind, sending our intrepid reporters out to cover the important aspects of the shows…well, the ones that have nothing to do with the clothes. 

Name: Fernanda DeSouza
Date: 6 February
Show/Party name: BCBG MAXAZRIA
Listed start time: 10am
Actual start time: A surprisingly not so late 10:30
Notable personalities in attendance (please list):
Hamish Bowles, Editor-at-Large of Vogue Magazine
Blogger Brian Boy
Celebrity chef Giada De Laurentiis
Models Coco Rocha and Julie Henderson
Actress/model Phoebe Tonkin
Actress Samira Wiley
1. How would you rate your experience at the event?
1       2      3       4      5
Comments: I don't give this a 5 because the tents were approximately 1,000 degrees. So I kept thinking about how sweaty I was, being in close proximity with gorgeous fashionistas and the silhouettes of clothes coming down the runway. Too much to think about.
2. Quality of service (Ushers, ticket scanners, etc.,):
1       2      3       4      5
Comments: Ushers, you're one job is to make sure everyone is seated properly in a fashionable manner. That's your ONE job. Instead you decided I knew exactly where I had to go and let me wander around for a little bit and try to guess my seat location.
3. Attention to detail (Gift bags, runway set, clothes):
1       2      3       4      5
Comments: No gift bags. SMARTWater and Diet Coke served backstage, with a large shelf of fashion publications (NYTimes Thursday Style section, WWD, Daily Front Row, New York Times Style Magazine) near the main entrance. What was great about this runway was that it was double so the audience could see the collection twice. Textures included silk, wool knits (an all knit black and white coat comes to mind), and fur, all offset by technical crepes and quilted jacquards. collars and slouchy poncho fitting tops, maxi skirts with slits. Because the inspiration was solely based on landscapes, the collection comprised of rich winter palettes that included black, greys, navy, camel with pops of mauve, blush, burnt orange and mint, with silhouettes leaning on the loose and boxy side (think ponchos). Nothing to the set except the white backdrop bearing the designer's name. Models had very loose hair styles, many of which were tucked into the collars of the tops. Music was a feministic representation of the BCBG woman, strong, thrilling and badass.
4. Overall consumer satisfaction (based on the qualities you were able to observe from attendees):
1       2      3       4      5
 Comments: It seemed like everybody enjoyed themselves, especially while they were on their phones.
5. Additional comments: Max Azria is the cutest man on earth and has an incredibly beautiful wife. Plus his Portuguese ain't so bad!