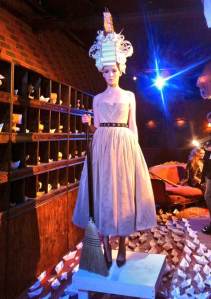 As much as we love Fashion Week, anyone who has ever been to the shows will tell you that it's not an easy stroll down the tents. Instead, you have to contend with late start times, harried ticket scanners, dying electronics (due to lack of outlets at Lincoln Center/Eyebeam), and a myriad of other FW-related crises. In that spirit, we're covering this season's Fashion Week with YOU in mind, sending our intrepid reporters out to cover the important aspects of the shows…well, the ones that have nothing to do with the clothes. 

Name: Danica
Date: Feb. 10
Show/Party name: Alice + Olivia
Enchanted: The search for the golden monarch
Listed start time: 5:00
Actual start time: 5:20
 Notable personalities in attendance (please list): Ashley Bell, Anna Kendrick, Peyton List, Zosia Mamet, Lily Lane, Jessica Hart, Morgan Saylor, Paris Hilton, Nikki Hilton, Holland Roden, Kelly Rutherford, Christine Teigen, AnnaSophia Robb, Amy Fine Collins
1. How would you rate your experience at the event?
1   2    3    4  5
 Comments: The presentation of the models and their sets was amazing. It really was an enchanting experience with models assuming roles, such as Snow White and Rapunzel, in spectacular hair and makeup.
2. Quality of service (Ushers, ticket scanners, etc.,):
1  2   3  4   5
 Comments: With the cold winter chill in the air, ushers and ticket scanners piled people in to The McKittrick Hotel. As coats and hats were removed, ticket scanners maneuvered their way to each of the guests. Despite the craziness of the scene, each ticket usher and scanner was helpful and happy.
 3. Attention to detail (Gift bags, runway set, clothes):
1  2  3  4  5
Comments: Mystical sets, electric candles and faux wolves were just added elements to Stacey Bendet's presentation. Cake pops and champagne were a plus.
 4. Overall consumer satisfaction (based on the qualities you were able to observe from attendees):
1  2  3  4  5
Comments: Despite attendants bumping into each other and squeezing past one another to get to the next group of models, everyone was entranced by the presentation.
 5. Additional comments: The captivating scene and the mystical ambiance made this presentation a night to remember!