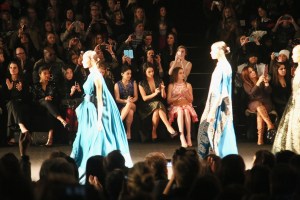 As much as we love Fashion Week, anyone who has ever been to the shows will tell you that it's not an easy stroll down the tents. Instead, you have to contend with late start times, harried ticket scanners, dying electronics (due to lack of outlets at Lincoln Center/Eyebeam), and a myriad of other FW-related crises. In that spirit, we're covering this season's Fashion Week with YOU in mind, sending our intrepid reporters out to cover the important aspects of the shows…well, the ones that have nothing to do with the clothes.
Below, Naeem Khan, Concept Korea, Pamella Roland, Billy Reid and The Art Institutes.

NAEEM KHAN
Name: Anna Canlas
Date: Feb. 11
Show/Party name: Naeem Khan
Listed start time: 2:00 PM
Actual start time: 2:26 PM
Notable personalities in attendance (please list): Padma Lakshmi
1. How would you rate your experience at the event?
1   2    3    4  5
Comments: I was very comfortable, and despite the fact that the clothes were mostly gowns and evening wear—which are far removed from my own life—I didn't feel like the show dragged on.
2. Quality of service (Ushers, ticket scanners, etc.,):
1  2   3  4   5
Comments: Quick seating owing to the very efficient ushers inside the venue.
3. Attention to detail (Gift bags, runway set, clothes):
1  2  3  4  5
Comments: The clothes dazzled, literally. Inspired by the cabaret, they incorporated lots of feather and fringe—both key textures this season. The fringe was particularly well done because it was cut in tiers of chevrons. Very nice. I just thought some of the head-to-toe leopard looks were over styled.
 4. Overall consumer satisfaction (based on the qualities you were able to observe from attendees):
1  2  3  4  5
Comments: Some polite applause all around, though it ended before the last model walked off the runway.
5. Additional comments: It was great to watch which outfit Padma Lakshmi would snap photos of on her phone. It was like watching her shop from the front row.