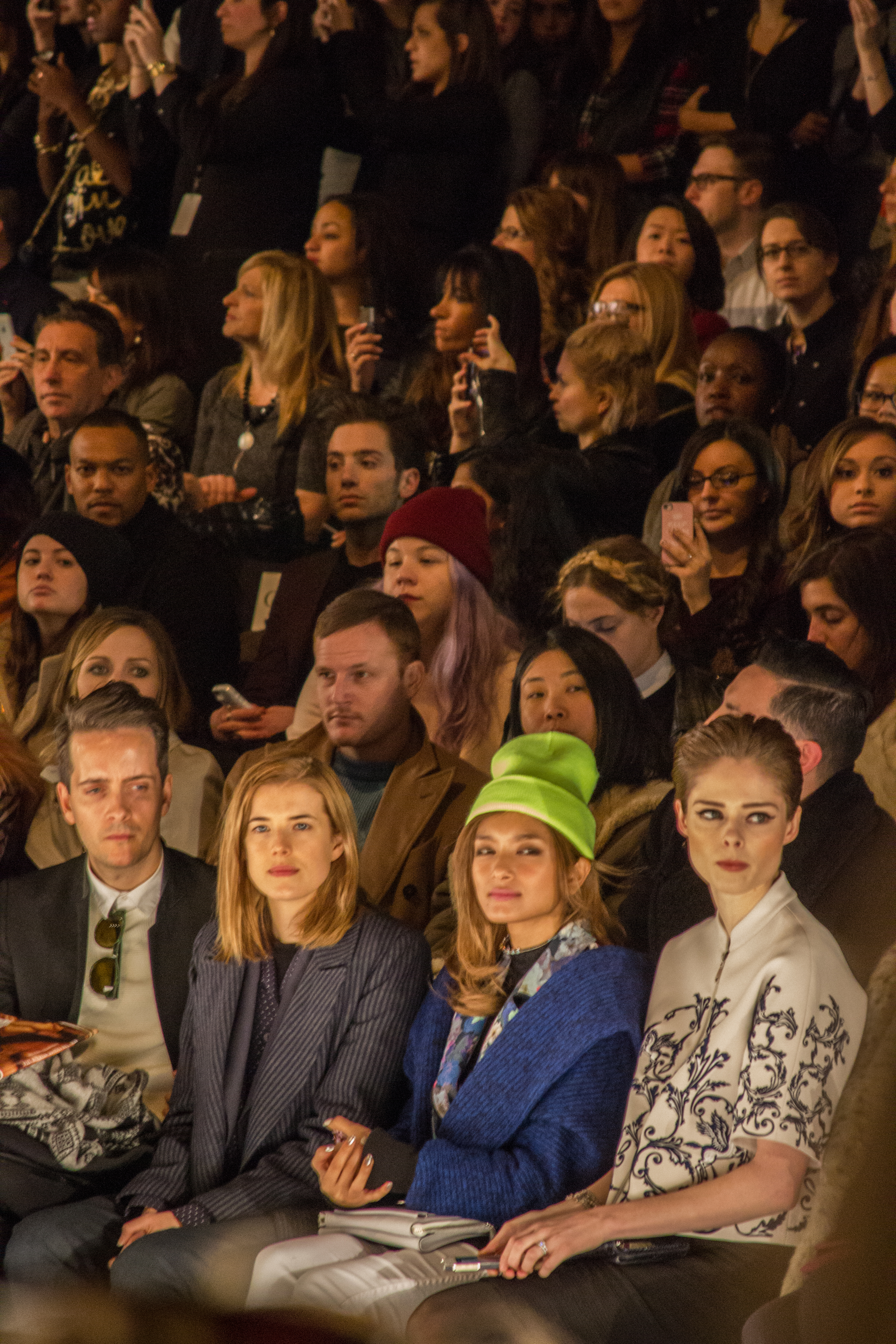 As much as we love Fashion Week, anyone who has ever been to the shows will tell you that it's not an easy stroll down the tents. Instead, you have to contend with late start times, harried ticket scanners, dying electronics (due to lack of outlets at Lincoln Center/Eyebeam), and a myriad of other FW-related crises. In that spirit, we're covering this season's Fashion Week with YOU in mind, sending our intrepid reporters out to cover the important aspects of the shows…well, the ones that have nothing to do with the clothes. 

Name: Fernanda DeSouza
Date: 7 February
Show/Party name: Rebecca Minkoff
Listed start time: 3pm
Actual start time: 3:26pm
Notable personalities in attendance (please list):
The Man Repeller, Leandra Medina, blogger
Singer/actress Carrie Underwood
Models Coco Rocha and Agyness Deyn
1. How would you rate your experience at the event?
1       2      3       4      5
Comments: Show went swimmingly! The best treat was probably having the British electronic duo AlunaGeorge sing live while the models went down the runway. Thank you Ms. Minkoff for adding yet another artist to my iPod (last year's was Wild Cub).
2. Quality of service (Ushers, ticket scanners, etc.,):
1       2      3       4      5
Comments: Those ticket scanning printers are the bomb! But ushers refused to let us into the show for a good while. A woman was even body checked when she attempted to go past. Hockey, anybody?
3. Attention to detail (Gift bags, runway set, clothes):
1       2      3       4      5
Comments: The gift was AlunaGeorge, enough said. The collection was a feminine interpretation of classic menswear. Soft silhouettes, boyish trousers, tailored Crombie coats as well as slick button-downs. Special attention to long chiffon skirts under long overcoats The palette consisted of petal pink, noble green, navy, soft grey and tobacco. Pops of cobalt plaids and red pinstripes, metallic lamé, colorful fur scarves and over-the-knee boots.
4. Overall consumer satisfaction (based on the qualities you were able to observe from attendees):
1       2      3       4      5
 Comments: Very light and feminine feel at this show, for all the menswear aficionados out there!
5. Additional comments: If you don't remember anything from the show just remember model Soo Joo's fierceness and the mini fanny bags!