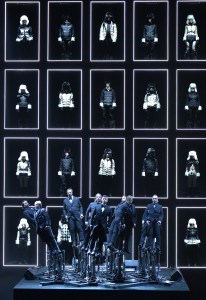 Name: Benji
Date: 8 February
Show/Party name: Moncler Grenoble
Listed start time: 7
Actual start time: 7.29
Notable personalities in attendance (please list): It was hard to tell inside the massive Hammerstein theater, but ALLEGEDLY …
Remo Ruffini include Agnes Gund, Amy Sacco, Annabelle Dexter-Jones, Ben Watts, Charles Renfro, Charlotte Sarkozy, Chelsea Leyland, Constance Jablonski, Cory Kennedy, Donna D'Cruz, Elisabeth von Thurn und Taxis, Jean-Michel Cazabat, Jenna Lyons, Jennifer Creel, Jessica Chastain, Jessica Hart, Lauren Remington Platt, Lola Rykiel, Lorenzo Martone, Maya Lin, Mia Moretti, Miroslava Duma, Nicky Hilton, Nicole Trunfio, Olivia Palermo, Peter Brant Jr., Rashaad Newsome, Stavros Niarchos Jr., Susanne Bartsch, Swizz Beatz, and Zani Gugelmann.
1. How would you rate your experience at the event?

1 2 3 4 5
Comments: Always a spectacle! This time there were new-age, operatic chanteurs strapped to high-tech automated moving stilts, lights and creeping sound: a full on art installation!
2. Quality of service (Ushers, ticket scanners, etc.,):

1 2 3 4 5
Comments: Having your invitations ready! (Two check points)
3. Attention to detail (Gift bags, runway set, clothes):

1 2 3 4 5

Comments: The set and theatrics didn't distract the cool alpine friendly clothes.
Fashion weeks are exceedingly redundant so Moncler was fascinating. No swag that would be too good to be true.
4. Overall consumer satisfaction (based on the qualities you were able to observe from attendees):

1 2 3 4 5