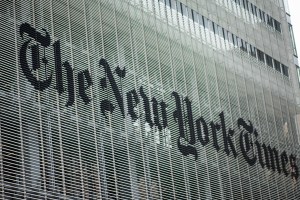 The New York Times has a very distinctive style for headlines: start with a preposition and invert the basic structure that most sane headline writers would use. 
Like many Times quirks, media people find it an object of constant amusement. In fact, media people love it so much that there is a dedicated Twitter feed devoted to spotting them. The more egregious examples of the Times headline style spawns periodic gleeful mentions and blog posts. 
Yesterday, a small story about the stunning success of a certain erotica series featured the Times-ian headline: "For 'Fifty Shades of Grey,' More Than 100 Million Sold."
"The NYT is now just parodying its own headline style," tweeted Pacific Standard's Nicholas Jackson. (Full disclosure, I retweeted). "For 'New York Times,' Never Too Much of This Headline Style," Daily Beast senior editor Justin Miller tweeted. 
It almost seemed that the Times wouldn't be able to top it. At least, not this week. Almost. But then it did. 
Today, a story went up on the Times' Caucus Blog with the nonsensical headline: In an Article, a Biden With an Eye on 2016, if Few Steps Taken." Now, clearly, that headline was a typo. Mediate wrote about it, people tweeted, and the headline was changed to make sense. Although the headline was garbled, it still read like a bot's approximation of Times headline style. 
Looking at the Times website this afternoon, it's clearly popular to start a Times headline with a preposition.  But even those articles that don't follow that format are fairly straight-forward. No fancy flourishes or puns. It's the paper of record, not some tabloid rag. You want click bait? Go click on some. The Times is too serious to stoop to such measures as using clever headlines to entice readers to read articles. 
When my father was in second grade in the 1950's, an editor from The New York Times came to talk to his class. When asked why the paper didn't run comic strips, the editor replied: "because we are The New York Times" and then explained to the seven- and eight-year-olds that the Times was a serious newspaper. 
And even in the less-serious world of the aughts, the Times holds itself above the fray. At least, that's what the style of its headlines suggest.
For 'The New York Times,' Some Things Don't Change.