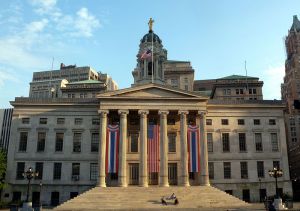 A decade ago, a young city councilman named Bill de Blasio won one of the first battles of his career in elected office when he became co-chair of the council's Brooklyn delegation. 
With a wild election season behind them, a crop of veterans and newly-elected Brooklyn council members are once again jockeying  to lead their borough's members.
While largely ceremonial, the position nevertheless carries a degree of prestige and clout in the council. And for ambitious pols, the post can serve as a stepping stone to greener pastures–just ask Mr. de Blasio, now the mayor of New York City, or Tish James, a former Brooklyn chair who is now the public advocate. 
"Chairing the delegation is like Triple A ball. A chance to show your leadership skills," explained a council source close to the race. "And if you do a good job, maybe you get called up to the big leagues."
Brooklyn's delegation, in recent years, has elected one female chair and one male chair. The current male chair, Councilman David Greenfield, is vacating the post to chair the council's powerful land use committee. Councilman Steve Levin, now in his second term, and freshman Councilman Carlos Menchaca are both after the post, sources say.
The current female chair, Councilwoman Darlene Mealy, is seeking re-election, but is facing a challenge from newly-elected Councilwoman Laurie Cumbo. Ms. Cumbo is a front-runner, one source following the process said. 
Both Ms. Cumbo and Mr. Mechaca triumphed in difficult races last year to win their seats. Mr. Menchaca defeated an incumbent to become the first Mexican-American elected official in the city and Ms. Cumbo bested a crowded field for Ms. James's Crown Heights and Fort Greene-based seat. Mr. Levin easily fended off a challenger and is seeking a greater role in the council, sources say. 
Ms. Mealy and Mr. Menchaca declined to comment. Ms. Cumbo and Mr. Levin did not immediately return requests.
"It's interesting to see who from the new crop of Brooklyn electeds are stepping up," the council source continued. "Running the Brooklyn delegation was a big deal for Greenfield. It showed his strengths and definitely put him on the map, so-to-speak."
Co-chairs, often selected both for their ability and to ensure demographic balance, have an expanded role in the budget negotiation process. They identify, for example, the priorities of their borough's 16 members and typically have more clout.
As with the speaker's race, each council member in the borough votes on his or her co-chair choices. There is no timeline yet for a vote.