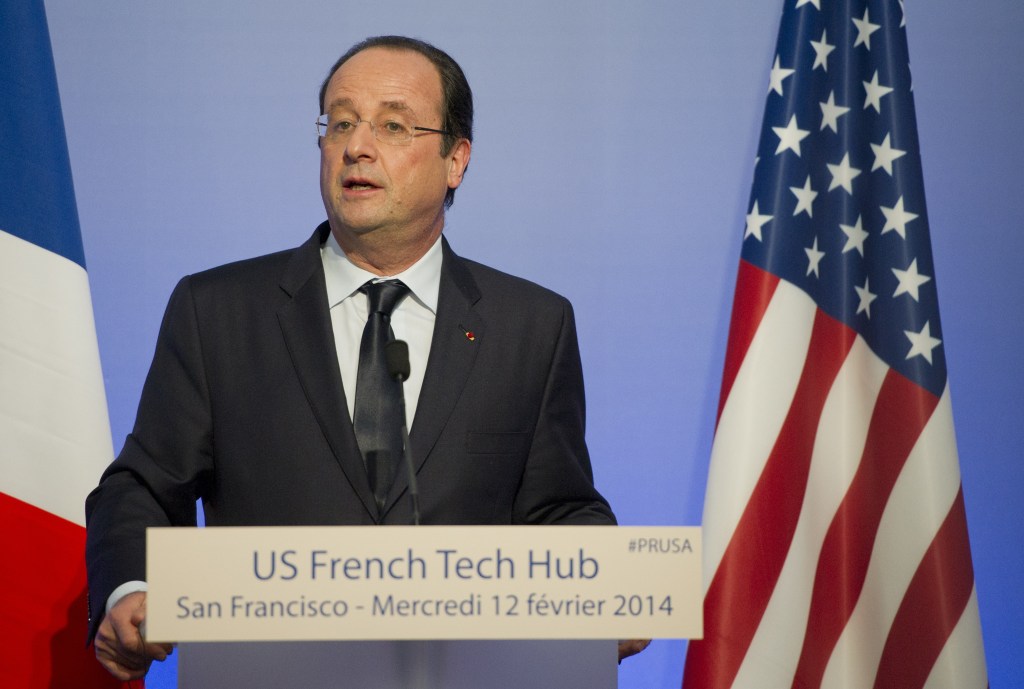 Last week marked the first state visit to the United States by a French president in 22 years. In addition to Washington, D.C., François Hollande visited the Silicon Valley. The last time a French head of state did so was in 1984, when François Mitterand met an ambitious eccentric named Steve Jobs. 
France and America are long-time political allies, and in 2013 France aggressively backed common stances and interests in Africa and the Middle East.  However, the two countries provide dissimilar environments when it comes to the business world. Nowhere can that be seen more than in the fast-moving technology industry – and Hollande heard that as he met with American and French entrepreneurs of the Bay Area.
While home to successful start-ups, France is still a heavily industrialized nation, and the technology sector accounts for only 2% of the economy. Part of the explanation for this lays in the departure of many would-be entrepreneurs and skilled workers – sometimes for California.
While the French are very creative, the stigma associated with entrepreneurial failure and the harsh consequences of any business bankruptcy can choke innovation and entrepreneurial drive. Furthermore, labor market laws can deter hiring and push talent out of the country. In addition, business is sometimes tightly regulated, and France is protective of home-grown industries and companies.  Change can be viewed suspiciously. Nationalism is strong. Uber has led to protests and retaliation by the Paris taxi fleet. Hollande's administration has blocked the acquisition by Yahoo! of DailyMotion, a Paris-based video-sharing website and major YouTube competitor.
Anger has at times run deep between French businessmen and their government, and some French Silicon Valley entrepreneurs have boycotted Hollande's visit and declined his invitation to meet. One recurrent complaint has been the taxes imposed on French start-up companies, which were so high that at some point technology start-ups owners united and created the 'Pigeons' protest movement (As in English, 'pigeon' is a slang word for a person who accepts a bad deal).
The French are entrepreneurial –after all, 'entrepreneur' is a French word.  Their country offers advantages to companies. They find there a highly skilled workforce, and in the New Economy sector, France's highly-regarded engineering schools provide top-flight, loyal professionals at a more than reasonable cost for a firm.
Such ingredients formed the basis for the success of several start-ups such as Criteo, a Paris-based online advertising venture which listed on the NASDAQ last October and raised over $280 million in an oversubscribed IPO.
Unfortunately these competitive advantages are today outweighed by the political climate. In a reversal of prior policies, Hollande recently announced business-friendly measures, but they are still a hard sale as no concrete resolutions were proposed.  Even if he is making steps in the right direction, the French president should take advantage of his recent meetings with the likes of Eric Schmidt (Google's Executive Chairman) and Sheryl Sandberg (Facebook's COO) to openly address concerns about conducting business and investing in the second economy of Europe.
France is starving for its marketplace to be liberalized.  Hollande can learn from his state visit to America, and in particular, should reflect well on his encounters in the Silicon Valley. His popularity at home is so low that he has all to gain by making France more progressive.
Rémy Raisner is the Founder and CEO of Proteus Capital Management, a private real estate investment company based in New York City. His articles have been featured in the Philadelphia Inquirer and French daily Le Monde.