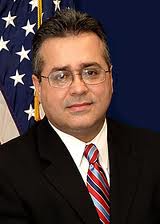 TRENTON – Assemblyman Angel Fuentes (D-5) won't give any Shermanesque statements about the senate seat in his district right now.
His ticket-mate, state Sen. Donald Norcross (D-5) has a slam dunk June Primary for Congress as he attempts to supplant retiring U.S. Rep. Rob Andrews (D-1).
But don't count out Fuentes, he said moments after Assemblyman Pat Diegnan (D-18) gaveled out the Assembly Education Committee this morning.
"It's too early, let's talk after the Democratic Primary," Fuentes told PolitickerNJ.
Is he ruling out a move up?
"No," the assemblyman from Camden said, "I'm not ruling it out."