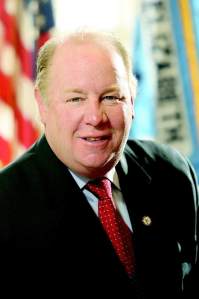 Chris Bollwage, Mayor of Elizabeth
Strengths: The 20-plus-year mayor of a big and relatively successful city in Elizabeth, Bollwage has the advantage in a primary of disagreeing with Sweeney on policy and being able to credibly use the Merlino argument on Fulop.
Weaknesses: After years of playing footsy with statewide office, there's a perception that the mayor and friend and ally state Sen. Ray Lesniak (D-20) simply like to stir talk of Bollwage as gubernatorial timber to strengthen their negotiating hand in the legislature.
Prognosis: With a scrappy blue collar narrative, would make the perfect Joe Biden to Cory Booker's Obama.