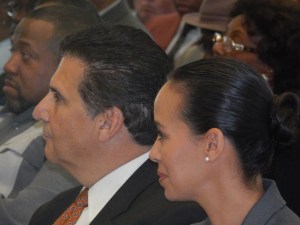 Milly Silva, SEIU Local VP
Strengths: Resilience. Insiders were impressed to see an unruffled Silva surface in Atlantic City after the election, prompting observers to note that she didn't go and cry on a beach, preferring to jump right back in the game. A Latina labor leader with SEIU street cred, Silva shows a game quality around politics.
Weaknesses: Just as Sweeney must suffer associations with Christie, Silva comes handcuffed to the memory of a losing statewide campaign. That may prove an asset, however, if Christie gets dinged up more than he is now.
Prognosis: She has a future, but needs to win an election before going statewide again.