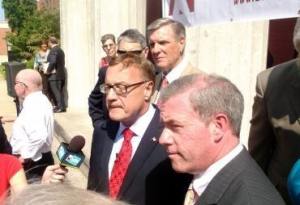 It's a developing situation right now in CD3 and once again Ocean County Republican Chairman George Gilmore finds himself gingerly handling nitroglycerine objects otherwise known as congressional candidates, one of them named former Bogota Mayor Steve Lonegan requiring particularly delicate care.
Watching with gritted teeth – and fearing more for its own safety than Gilmore's –is Burlington County, one half of the 3rd District, where organization Republicans favor former Randolph Mayor Tom MacArthur to run for the seat being vacated by a retiring U.S. Rep. Jon Runyan (R-3).
A nice man, by general acclimation in Burlington – and Ocean, for that matter – businessman MacArthur offers a singular overriding enticement for Republicans looking to fend off Burlington County Freeholder Aimee Belgard and secure Runyan's seat: money.
Already on record vehemently opposing failed 2013 U.S. Senate candidate/movement conservative leader Lonegan, Burlington wants Gilmore to drop the hammer on him. But expungement is not Gilmore's plan, say sources, as his county committee looks to a Saturday screening of 15 candidates, including rivals Lonegan and MacArthur.
Gilmore wants to finesse, and has not ruled out throwing his support to Lonegan, say sources.
He's also confident he can resolve what to most other political insiders looks like an establishment GOP crisis, sources say.
Conquered by Cory Booker last year after giving the Democrats' U.S. Senate candidate all he could handle, Lonegan has impressed Gilmore with his work ethic and tenacity.
Sources say the Bergen County transplant is all over Ocean County Committee members.
But while he may not ultimately secure their support, it might not matter in the longer view of a CD3 Republican Primary.
Ocean right now is leaning toward retired Rear Admiral Mo Hill of Toms River, the sentimental favorite in a race otherwise dominated by two outsiders: Morris County's MacArthur and North Jersey's favorite factory owner turned political fist-fighter.
Hill wants the seat, sources say.
He feels like he was passed over last time for retired NFL star Runyan.
He's digging in now for Ocean, armed with the argument that Burlington's Runyan served for just four years before surrendering.
He has willing defenders.
But if Ocean falls in behind Hill and Burlington sticks with MacArthur, Lonegan's off-the-line presence would drastically rearrange the primary field away from the simple head-to-head Myers-Kelly match-up that resulted in a county versus county bloodbath and, in that case, a Myers/Burlington win.
With his name ID, quick access to campaign funds, penchant to mix it up with opposing candidates and solid performance numbers in the district, Lonegan could stand to take considerable advantage of Hill and MacArthur cannibalizing the establishment, sources say.
Last month at his campaign kickoff, Lonegan told PolitickerNJ he didn't want to run against the organizations, but if the organizations are split, he has his best shot to go to Congress.