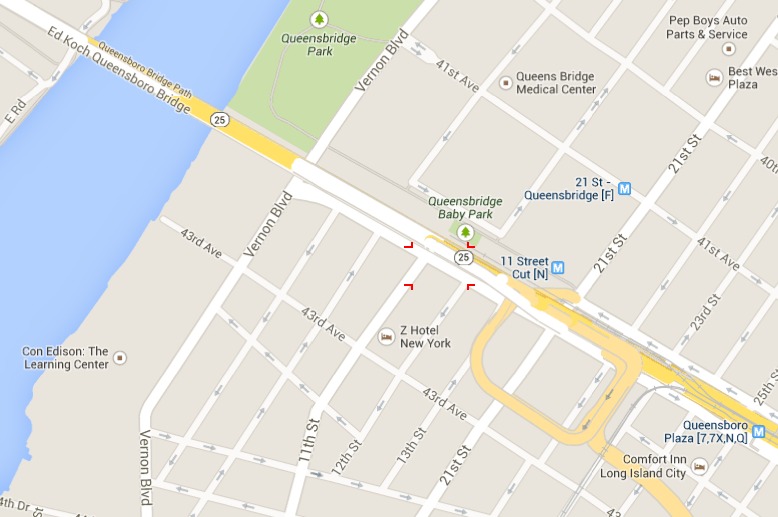 Google (GOOGL) will eliminate a phantom subway stop that found its way onto the company's ubiquitous mapping site, after a Politicker inquiry on the subject.
The current version of the map claims the N train makes a stop just after the Ed Koch Queensboro Bridge in Long Island City. According to the map, the "11th Street Cut" is the N train's first stop in Queens after crossing over from the east side of Manhattan. Its iconic blue "M" puts it several blocks west of the Queensboro Plaza 7/N/Q stop and a block south of the Queensbridge F stop, not far from the neighborhood's waterfront.
The problem, however, is that the stop doesn't exist, leaving some users very confused. (Disclosure: This reporter included.)
MTA spokesman Aaron Donovan confirmed the stop was indeed an error, which he said had stemmed from an MTA data entry mistake. Coding the agency distributes to Google and other app developers apparently accidentally contained information about an internal control point–which the mapping software treated as a stop.
"In developing the schedules, we–the MTA–accidentally included some stray code, which indicated there was a station near that location," said Mr. Donovan Tuesday. "Thanks to your query, we are scrubbing the data as we speak and hopefully rectifying this as soon as we can."
(Technically, the 11th Street Cut is the segment of track that allows the R train to connect from the Queens Boulevard Line to the 60th Street Tunnel under the East River, he said.)
While the agency often tweaks the locations of certain features to make its maps more accurate, this is the first time, Mr. Donovan added, the MTA has ever had an issue with a phantom station appearing in such a manner.
A Google spokeswoman confirmed the error, blaming it on third-party data, and said the company was on the case. The issue should be fixed in Google Maps shortly, she said.