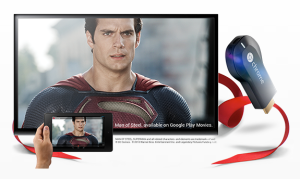 Sorry Chromecast users, but you can't stream live footage from the Playboy Mansion to your living room just yet.
Yesterday, Google released the Google Cast SDK (short for software development kit), which lets developers make their apps compatible with Google Chromecast. (Until now, Chromecast users could only enjoy a select few apps, including Netflix, Pandora, and YouTube.) 
Though the SDK release will bring a diverse array of apps to Google's streaming service, Gigaom has noted that somebody's still not invited to the Chromecast party: porn. 
According to the "Content Policy" section of Google Cast SDK's terms of service, app developers must comply with the same rules that govern Google Play. When it comes to porn, those guidelines say, "We don't allow content that contains nudity, graphic sex acts, or sexually explicit material." 
Though it's sad, the decision shouldn't really come as a surprise—Google also banned porn apps from Google Glass. 
But don't freak out too much. If you're absolutely desperate to stream porn to your TV because your laptop screen is just too small, goddammit, Chromecast will still let you stream your Google Chrome browser. Type in the URL for whatever weird shit you're into, and you're good to go!
And if that doesn't work for you, don't forget that Chromecast is totally compatible with HBO Go.