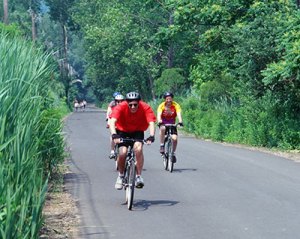 Applications for $50 million in federal funding, provided by the Federal Highway Administration via the New York State Department of Transportation, for an array of alternative transportation projects are now available, Governor Andrew Cuomo announced today. Meant to complement the $67 million allocated last month to "help modernize and enhance" the state's transportation infrastructure with 63 bicycle and pedestrian path enhancement initiatives, the newly-announced funding will support "recreational and tourism opportunities across the state," Mr. Cuomo said in a release. "We are looking for projects that can grow local economies and create jobs, while also contributing to cleaner and more resilient communities for years to come."
Eligible projects will include both on and off-road facilities for pedestrians and cyclists; systems meant to safely address the daily needs of children, the non-driving elderly and the disabled; and "environmental mitigation" including pollution prevention and erosion control. Approved projects can expect to have up to 80 percent of costs covered by the new funding; project sponsors will be responsible for marshaling the remaining financing themselves.
"The community improvement opportunities supported through this competitive funding solicitation will promote healthy transportation alternatives, improve access to and the safety of non-motorized transportation facilities and transform communities throughout the state," NYSDOT Commissioner Joan McDonald said in the release. "We are helping regional economies by providing a variety of transportation options that are in harmony with local visions."
Congresswoman Nita Lowey and Congressman Sean Patrick Maloney chimed in with further endorsements, lauding the funding's potential effects in the Hudson Valley, which, we can only hope—with the governor's help—might lure some of our more aggressive cyclists to scenic trails and overlooks and, most importantly, out of the city.