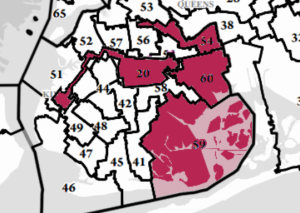 Though candidates across the state have begun to assume that Gov. Andrew Cuomo won't call special elections to fill state legislative vacancies, the governor himself says he is still keeping his options open.
"It's something we're reviewing," he said today when asked about the subject after an unrelated press conference. "We don't have a decision yet."
Pressed on whether he had a timeline to make a decision, Mr. Cuomo said "no" before reiterating, "But we're actively reviewing."
The special election process to fill senate and assembly seats is controversial. Advocates and other elected officials have argued that with 11 vacant seats representing over a million New Yorkers, communities are being deprived of their right to equal representation. But good government activists have been more cautious, noting that when a special election is declared, a backroom committee of insiders handpicks the parties' nominees instead of holding a primary.
Mr. Cuomo's continued reluctance echoes his past comments on the issue, which have included noting the cost of holding the elections and the odds that still more vacancies could emerge from convictions in ongoing corruption trials against sitting lawmakers.
State law mandates that a special election cannot be held until 70 days after the governor announces one, so the window for calling a special election is closing.
Additional reporting by Jill Colvin.