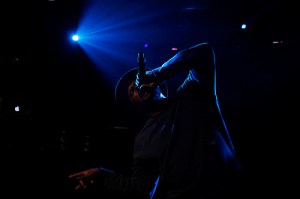 "Where's the blind man? Somebody guide the blind man," the rapper Schoolboy Q requested in between songs onstage last night at Le Poisson Rouge in the Village. He wanted to perform with Ab-Soul.
Q brought his boundless energy to last night's NPR Hip Hop's First Listen Live series for the artist's forthcoming album, Oxymoron. You couldn't listen to more than ten minutes of Power 105 this weekend without learning that Q is performing at Starland Ballroom in N.J. on March 5. That is to say nothing of his sold out show at the Best Buy Theater the day before, or that his album–expected to surpass Kendrick Lamar's good kid, m.A.A.d city in pre-orders–was on Monday one of the top 10 albums on iTunes: It sits between new albums by Lorde and Beyoncé.
Q had just settled into his set when he was looking for Ab-Soul, whose schizophrenic turn on "Druggys Wit Hoes Again" song felt like a celebration. It was his birthday. "Happy birthdaaaay Stevie Wonder," Q cooed mercilessly through a haze of weed smoke. He didn't perform songs from his album as much he workshopped their effectiveness. It was not unlike a stand-up comic readying his latest jokes to see what's working. It was not a success: About 20 percent of the crowd knew the words to most of the songs. "Y'all musta already copped the bootleg," he said, genuinely surprised. The leak had only happened over the weekend.
His more known hits—"Hands on the Wheel," "Collard Greens"–came with muttered warnings about how he hates them now. Ironically, their success probably has everything to do with why NPR is checking for him now. For his part, Q derived more joy in performing songs old songs like "Blind Threats," which features Raekwon. He two-stepped and zoned out, in love with the sound of he and Raekwon's pre-recorded voices. It was a wonder that he made it back into his second verse.
Born Quincy Matthew Hanley, Q is from South Central Los Angeles. He was a member of the Hoover Street Crips and a hustler who made most of his money selling Oxycontin. Two events reversed the course of his life: being signed to TDE in 2009 and the birth of his daughter in 2010. His independent projects Setbacks and Habits & Contradictions were both critically acclaimed. Once assigned to be Kendrick Lamar's hypeman, Complex named him one of the 25 best rappers under 25.
The five or so people that you meet at a Schoolboy Q show are not only a kind of education on Q's appeal, but a visual commentary on the cultural relevance of Q's very gangster and often depressed brand of hip hop. You've got the hardcore Black Hippies; pretty black girls with the funky, days-old twist out; the bootleg-downloading fanboys; the industry types with their dutiful reminders via Twitter that this was not your father's NPR; and the genuinely curious. It was a cross-section of New York City Q had to prod into turning up. At one point, he exhorted fans to use the n-word on "Blessed." He doesn't believe in racism, he explained, but use of the word should stop at the show and not say, on the street. "Somebody might get hot," he said to laughter.
Some of his songs did the heavy-lifting for him. He descended into the crowd during the beginning of his single "Yay Yay." Fans crowded, bumped and jumped around him before he took the stage again. He flailed and wiggled and jumped — all while holding the mic like it weighed 15 pounds.
On "Man of the Year," the album's bouncing, triumphant single, Q rapped, "I see hands in the crowds … I see whites, blacks blazing a pound, jumping around." He sounded like a man at peace with his new reality.