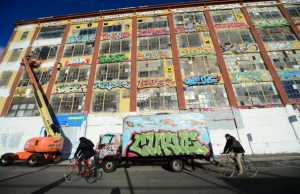 Someone has killed 5 Pointz, again.
 A new message has been splashed across the whitewashed building that was once New York's graffiti mecca.
"Art Murder" was sprayed in blue and red paint, Animal New York reported, sometime in the past few days, by an unidentified person or persons who used a modified fire extinguisher as their weapon of choice. The new note on the "Institute of Higher Burning," as it is also known, covered the whitewashed walls. 
Sitting across from MoMA PS1, 5 Pointz served as a canvas for hundreds of graffiti artists who trekked to the Western edge of Long Island City to leave their mark on the building. Jerry Wolkoff, the structure's owner, plans to demolish it and replace it with condos in the coming year. In November, he had the once-colorful edifice erased, heading off aerosol artists' intensifying efforts to preserve the facade. Guess it's that time again.