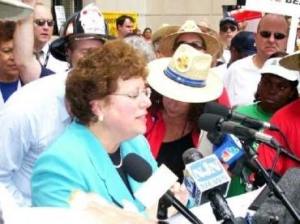 Middlesex County Democratic Chairman Kevin McCabe and representatives from every Middlesex County town in the 12th Congressional District today endorsed Senator Linda Greenstein's (D-14) campaign for Congress.
"Middlesex County is united and committed to electing Linda Greenstein to the United States Congress," said McCabe. "Simply put, there is no stronger advocate for the progressive values that we as Democrats embrace than Senator Greenstein. Whether it is fighting for paid family leave, protecting seniors from predatory scams or standing up for organized labor, Senator Greenstein embodies the best that public service has to offer. She has represented Middlesex and Mercer Counties as an outstanding legislator for almost 15 years and I am confident that she will be just as strong an advocate for our interests in Washington."
Greenstein is running to replace Rep. Rush Holt (D-12), who announced earlier this week that he would not seek re-election to another term.
"Linda Greenstein has served Middlesex County as a member of her local school board, as a local councilwoman, as an Assemblywoman and as a State Senator," added Vice Chair Beatrice Moskowitz. "Her deep understanding and commitment to our values is unparalleled. Washington needs a dose of the common sense Senator Greenstein has exhibited over the course of her long and distinguished career in public service."
"I'm privileged to receive the support of so many dedicated public servants, who all share my goal of promoting common-sense, progressive solutions to our nation's problems," said Greenstein. "Whether it is promoting legislative solutions or addressing the needs of working middle class families, I am proud of my record delivering on behalf of the residents of Central New Jersey. Those are the values I intend to take to Washington as our district's Congresswoman."
The list of Middlesex County Democrats includes:
Middlesex County Democratic Chair Kevin McCabe
Middlesex County Democratic Vice Chair Beatrice Moskowitz
Cranbury:
Mayor Susan Goetz
Municipal Chair John Lecky
East Brunswick:
Municipal Chair David Lonski
Jamesburg:
Mayor Marlene Lowande
Municipal Chair Fran Ehret
Middlesex Borough:
Mayor Ronald Dobies
Municipal Chair Ron Di Mura
Milltown:
Mayor Eric A. Steeber
Municipal Chair Joseph Cruz
Monroe:
Mayor and Municipal Chair Richard Pucci
North Brunswick:
Mayor Francis "Mac" Womack III
Municipal Chair Richard Zangara
Old Bridge:
Municipal Chair Kevin Calogera
Plainsboro:
Mayor Peter Cantu
Municipal Chair Robert Schwartz
South Brunswick:
Freeholder and Municipal Chair Carol Barrett
Mayor Frank Gambatese
South River:
Municipal Chair Tele Koukourdelis
Spotswood:
Mayor Nick Poliseno
Municipal Chair Derek Sean Artz