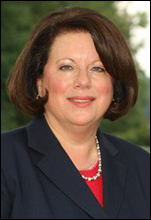 State Sen. Linda Greenstein's (D-14) congressional campaign received the backing this week of the New Jersey Mechanical Allied Craft Council.
The NJMACC, which is made up of six national building trade unions, is the sixth union group to back Greenstein's congressional bid succeed U.S. Rep. Rush Holt (D-NJ).
"The NJ Mechanical Allied Craft Council and its 31 member Unions who employ 55,000 men and women across New Jersey every day proudly support and endorse Senator Linda Greenstein to follow Rush Holt in the 12th Congressional District," said Edward W.Fedorko Jr, executive director of the NJMACC, in a statement.
"As our state senator, and throughout her tenure in the Legislature, Greenstein has fought for working families across New Jersey," he said. "We look forward to her tireless work ethic continuing in Washington, DC."
The NJMACC is made up of the Heat & Frost Insulators and Allied Workers, International Brotherhood of Electrical Workers, United Association of Plumbers and Pipefitters, Sheet Metal Workers, Elevator Constructors and District Council 711 Painters and Allied Crafts.